On Sunday night, dozens of male voices, old and young, echoed from Stanford University's Dinkelspiel Auditorium, arousing enthusiasm from a packed audience. Celebrating 35 years of music and knee-slappers, Stanford's comedy a cappella group, Fleet Street, invited alumni members back to present their annual reunion show, February of the Penguins.
The show featured both silly theatrics and moving choral arrangements, ranging from "Everyone Pees in the Shower" to "Ave Maria". Wide-eyed freshmen and middle-aged businessmen joined together in tuxedos and wacky socks to convey Fleet Street's dedicated mission since 1981: sharing comedy and music to bring together many unique members of the Stanford community.
Watch a performance of their hit, the "Disney Princess Medley"
Seth Chambers, a sophomore studying Ancient History in Greece, is an active member of Fleet Street. When asked about the group's significance to him, he shared, "It's a collection of some of my closest friends, a bunch of fun people who are really great to be around. We're many different types of people from all walks of life, but we bond over music."
He says one long-standing value of the group is to keep mixing things up.
"You're only allowed to be in the group up to four years, and that's to keep traditions changing. We have a more classically-oriented conductor this year, whereas last year the group was more pop-oriented."
However, other aspects remain the same: "We have special code words and inside jokes where, like, I can go up to someone from the 1990s and they think it's hilarious because we've used that same lingo for ages."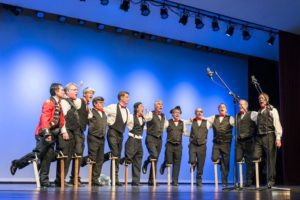 Austin Lyons, who graduated from Stanford with degrees in management and engineering in 2010, was one of the many alumni who traveled back to Stanford for this memorable weekend.
When asked how he came to join the group, he remarked, "It's funny, I originally intended on joining the Stanford band, and even attended an audition. Then, I saw Fleet Street perform at the new student orientation; I watched them do "Zip-a-Dee-Doo-Dah" (which we performed again today), and I knew I wanted that."
He also reflected on the legacy Fleet Street left throughout his adult life: "Even while I was in the group, which was a very formative part of my Stanford career, I didn't know that I would be back here, you know, ten years out; they're some of the people that I keep in best touch with after leaving Stanford. This weekend was full of rehearsal, and it's been really fun to see old friends again."
One audience member seemed particularly well-known and admired by the group; he gave the downbeat to the opening act and was swarmed by performers following the show. This man was retired professor Gregory Wait, who taught voice and choral conducting to many Fleet Street members while working in the Music Department at Stanford.
He was full of praise for the singers: "They manage to combine really, really good singing and irreverence and humor – and they always have, for the past 35 years. They have always sort of stretched the boundaries and helped us not take ourselves too seriously… and that's only one of their gifts."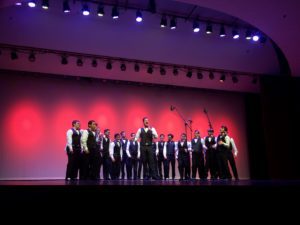 Stanford University's Fleet Street a cappella group has received widespread recognition for its musical talent – it has toured internationally, released eleven albums, and won numerous awards from the Contemporary A Cappella Society of America and the National Championship of College A Cappella. However, at the core of these successes is a simple group of "goofy, fun-loving guys who love to sing, create, and have a good time." Keep an eye out for more Fleet Street performances on Stanford Campus this spring, listed on their website: http://www.fleetstreet.com.

Check out some of their songs here:
Ave Maria:
https://open.spotify.com/track/0wxqFNmKzOm3PH5lIC317L
Prayer To The God of Partial Credit
https://open.spotify.com/track/64p8CysN3UjGQ10LzzbZdM