After a come-from-behind win over Wilcox last Friday night, the Bears again triumphed in the Division 3-AA NorCal championship over Eureka at McKinleyville High School on Friday—a 6 hour, 300 mile drive north from M-A.
In an improbable series of events, M-A learned hours after winning the Central Coast Section (CCS) title that their reward would be an away match up against the 12-0 Eureka Loggers for the NorCal final. "Our guys were annoyed because the winner of CCS is supposed to get home field," said M-A strong safety Simon Pintz. "But we're happy to get a chance to play for the state title."
Eureka's berth to the NorCal championship came in a similarly unlikely manner. When air quality concerns from the Northern California fires delayed their semifinal matchup, Eureka and Cardinal Newman decided the game by coin toss. Eureka won, earning their first NorCal championship berth.
On their first possession, Eureka quarterback Cruz Montana — wearing number 16 like 49er great Joe Montana — drove his team to the goal line, and running back Robert Weir punched in the first score of the game. But M-A's offense answered with star wide receiver Troy Franklin catching two scores in the quarter.
The rain started midway through the second, and the Bears' defense was able to force a fumble that was recovered by tackle Noa Ngalu deep in Logger territory. Deston Hawkins ran it in from 5 yards out, and after a missed extra point, the score at the half was 20-7, Bears ahead.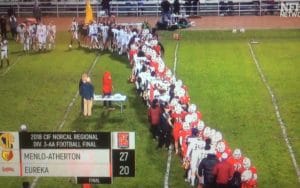 Eureka, led by Montana, Weir, and receiver Isley Tulmau, clawed back into the game in the third quarter. After Hawkins fumbled deep in Bear territory, Eureka capitalized with a touchdown reception on third down by Tulmau. On the Loggers' next drive, Montana marched his team downfield, and eluded defenders on a quarterback draw to tie the ballgame. Eureka missed the extra point, tying the score at 20-20.
With the Bears on the 30 yard line, and freshman Matt McCloud in at quarterback, Franklin broke away on a screen pass for a 70-yard touchdown, his third score of the game, putting the Bears up seven with over eight minutes remaining. On the play, senior Daniel Hemuli was injured on a controversial hit away from the ball; however, he would return to the field moments later.
On Eureka's ensuing three drives, the Bears' defense held, forcing consecutive turnovers and stopping the Loggers on their last attempt to tie. Pintz said after the game, "It's awesome [to win NorCal]. State is next thought. We got to focus on Lincoln."
M-A will take on Lincoln-San Diego this upcoming friday at Sequoia High School at 6 for the 3-AA state title.