Raider Nation is leaving the Bay Area. By a 31-1 vote from all of the 32 owners in the National Football League (NFL), the Oakland Raiders' move to Las Vegas has been approved. This decision comes as a shock to the hundreds of thousands of Raider fans in the Bay.
The Raiders have been in Oakland for the past 22 years, and it will be very difficult for fans to get used to this change. The good news is that the Raiders' move to the desert is not scheduled until 2019 so fans have two more years until they have to say goodbye. Sophomore John Mills was devastated.
"At first I couldn't believe it because I thought the owners were going to back out. However, when I checked my phone and saw it on Instagram, I was really disappointed. Now, I am going to try and go to all of the games that I can while they are still in Oakland and then never go to a game in Las Vegas."
This move comes during the worst of times. The Raiders, led by a young core of Derek Carr and Khalil Mack are relevant once again after so many consecutive losing seasons. Raider fans were excited that for years to come Oakland was going to be a staple as one of the elite teams in the NFL. This was not to be.
Mills stated, "I think it was not a good representation of Oakland, but it was a good representation of the NFL where they are trying to make the most money. I guess there will be more money in Las Vegas."
This move brings even more bad news to the Oakland area. Hundreds of stadium jobs will be lost which is especially detrimental to the East Oakland area because this part of the city is impoverished. Not only will jobs be lost, but there really is not any other team to root for.
Sophomore Will Beasley does not think that Oakland fans will support another team.
"The fans will stay in Oakland. The Vegas model is that you go in for a weekend to watch a game and I just don't think that this creates loyal fans. It is not going to be as big of a fan base."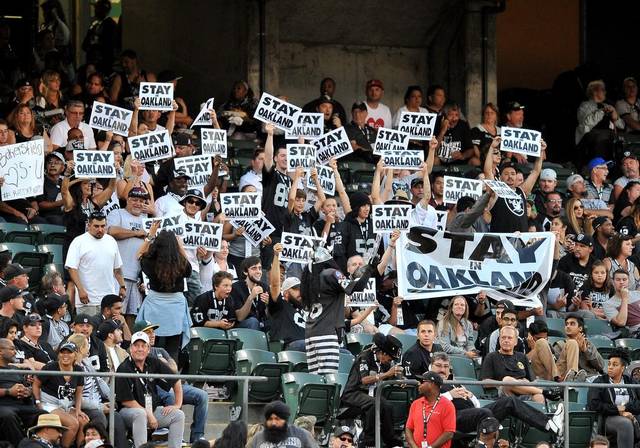 With outrageous parties and clubs, the Vegas vibe may be hurtful to young players who have not quite found their footing in the NFL. But nonetheless, the owners' decision was almost unanimous.
Although Beasley was upset with the deal, he knows that Oakland has no choice but to accept the decision.
"I understand it from a business standpoint. The Raiders deserved a good stadium because they are a great team right now and they were not going to get the funding in Oakland."
Yes, the Oakland Coliseum needed a few renovations, but this could have been done with much less money than it will take to build a brand new stadium in Las Vegas. This brings us to a question in our community today.
Clearly, the NFL made this decision because of money. The NFL believes that the market in Las Vegas will bring the league a greater income than it gets in Oakland. In Menlo Park, we have to make a lot of these types of decisions as well. Do we value our community as a whole or do we value making more money?
Raiders fans have made their stance on this situation clear. So when our city has to make a decision like this, I hope that Menlo Park thinks back to members of the Raider Nation at our school, in our state and in our country who are now isolated.
Raider fans have nowhere to go. When the Raiders finally started to show some hope, Oakland's team was taken away. For Raider Nation, there is no hope left.