Students in AP Environmental Science (APES) are taking education beyond the limits of the classroom–and into the garden. The class is currently investigating a sustainable method of agriculture known as aquaponics. Led by teachers Lance Powell and Andrea Penglase, students have designed their own small-scale aquaponics systems in the M-A school garden and are exploring the science behind such systems as well as their implications for the real world.
Aquaponics refers to a relatively new industry that combines
aquaculture, or the cultivation of aquatic animals and plants, and hydroponics, the process of growing plants in sand, gravel, or liquid. APES teacher Lance Powell explained, "Doing aquaculture alone creates problems because you have too much waste, and doing hydroponics alone creates problems because you don't have the nutrients. When you combine the two you start to mimic an ecosystem and create a cycle. The fish provide nutrients through their waste that go to the plants, and the plants utilize those nutrients to grow and then return the water to the fish clean. So we have a nice little cycle there."
The project has been a huge success since Powell began it a couple years back. "I think more than anything it gets people fired up that they can do this on their own on a bigger level," he said. "It's exciting because it's a disruptive technology. There are so many things about our food system right now that don't work, that aren't sustainable. We're not absorbing the costs of the cheap food that we're eating right now–the food that we think is cheap. I think the big win for me is when I know people are getting excited and they say 'I could see doing this on a bigger scale in another arena.'"
APES student Katie Thurston commented that the assignment is "really interactive, and [she] learns better that way. Also getting out of the classroom environment is great because that can be claustrophobic. It's nice to get outside and learn while you're doing something productive that's good for the environment."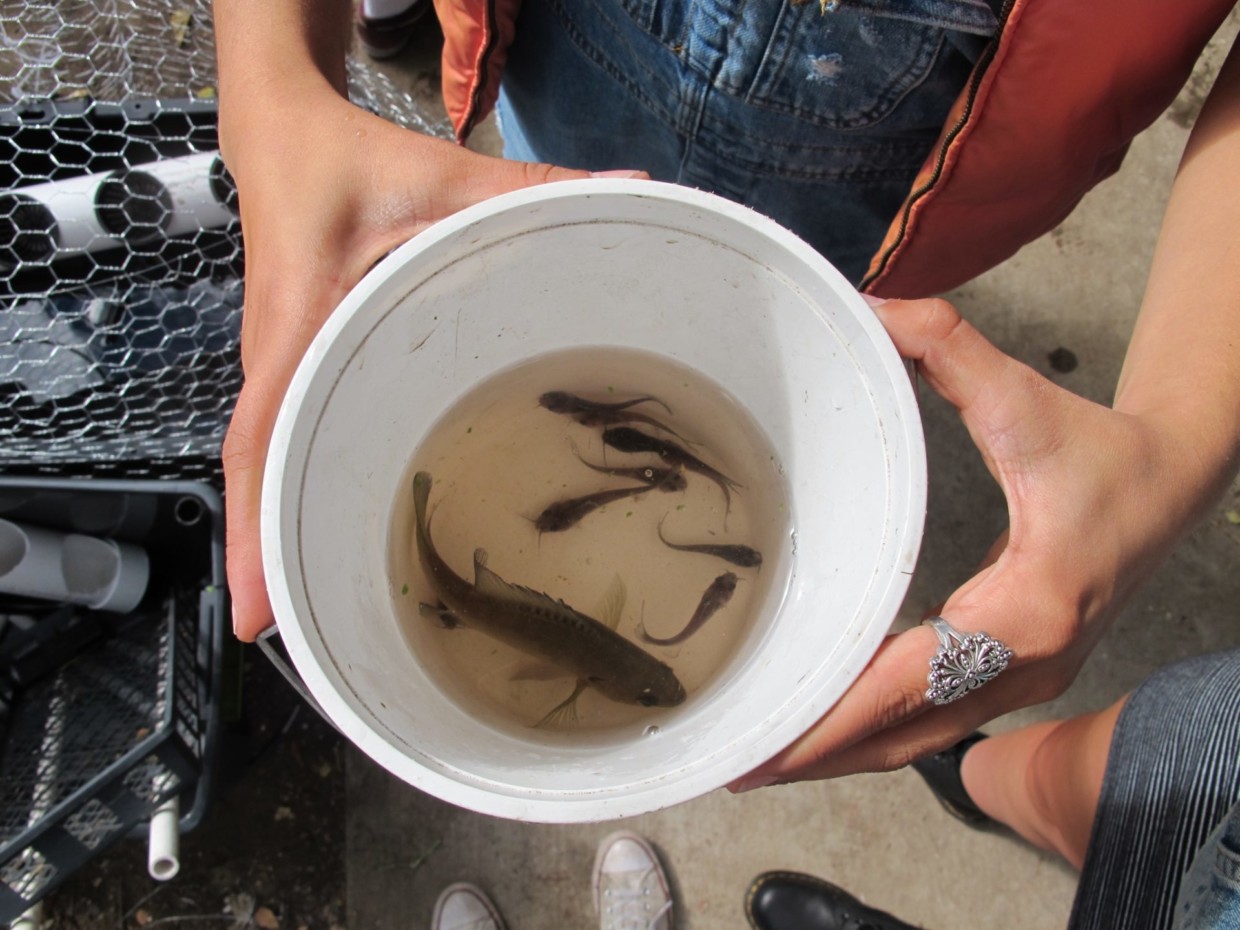 Jude Carabetta Goncalves has also enjoyed the assignment, stating, "I really like the fact that this can be applied to outside of school. For example, I can doing what we learned at a much larger scale at home."
Powell hopes that the project will provide students with insight into the food production process. "There's something very satisfying about growing food and eating it–I think so many of us are just completely disconnected from what that's even about," he said. "For me personally, it's a disruptive technology that's going away from the centralized way things are done, and we're basically growing food locally and organically. That's really cool to me."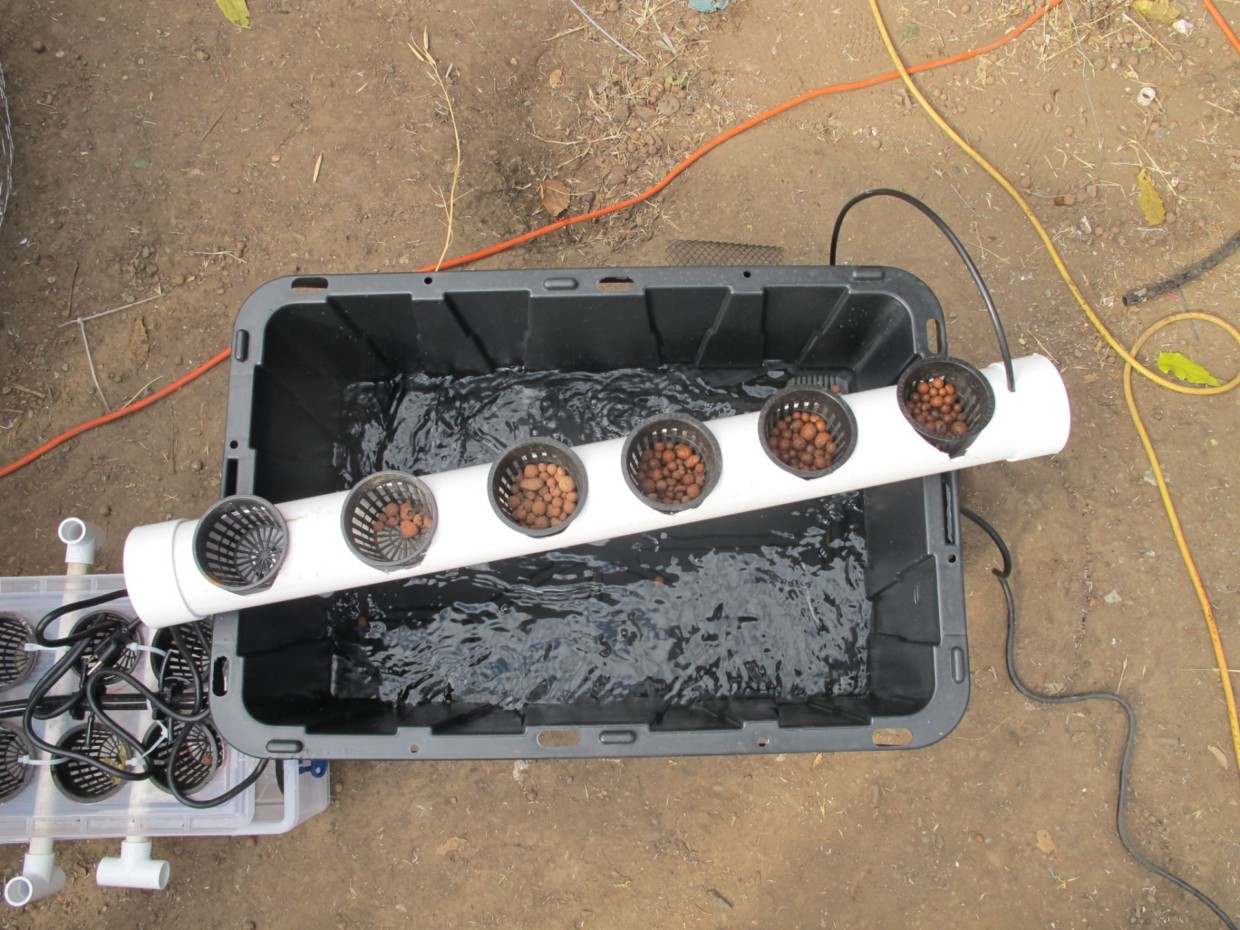 Inspired by the creations of his students, Powell decided to build his own backyard aquaponics system several years ago. "We were in the extreme of the drought, and so I wasn't going to do anything that was not water-conservation oriented, which is the problem with regular gardening–you're wasting so much water on things that we shouldn't be watering, in my opinion. And so I took [an aquaponics] class, and I was like 'Oh boy, here we go.' But [the teacher] gave me the blueprints to build this thing, and so I built it. And then, it's just been a slippery slope. Now I'm adding all kinds of gadgets to it, and I have different systems, and it's been a lot of fun. My wife just rolls her eyes at me all the time. I'm growing beans, strawberries, kale, chard, six different kinds of lettuce, tomatoes, squash, and zucchini."
Powell and his students are not the first ones on aquaponics scene; the industry is growing rapidly, with systems in both the U.S. and abroad. According to the Aquaponics Association, "The most advanced aquaponic growers in the nation, like Superior Fresh of Wisconsin, are growing sushi-grade salmon and over ten thousand units of greens per day in multi-acre controlled-environment greenhouses." Sustainable food systems are becoming more important as humans "can no longer rely on shipping [their] food thousands of miles," the association states. "Mounting environmental challenges and the demand for local food will force us to grow with these new efficient methods."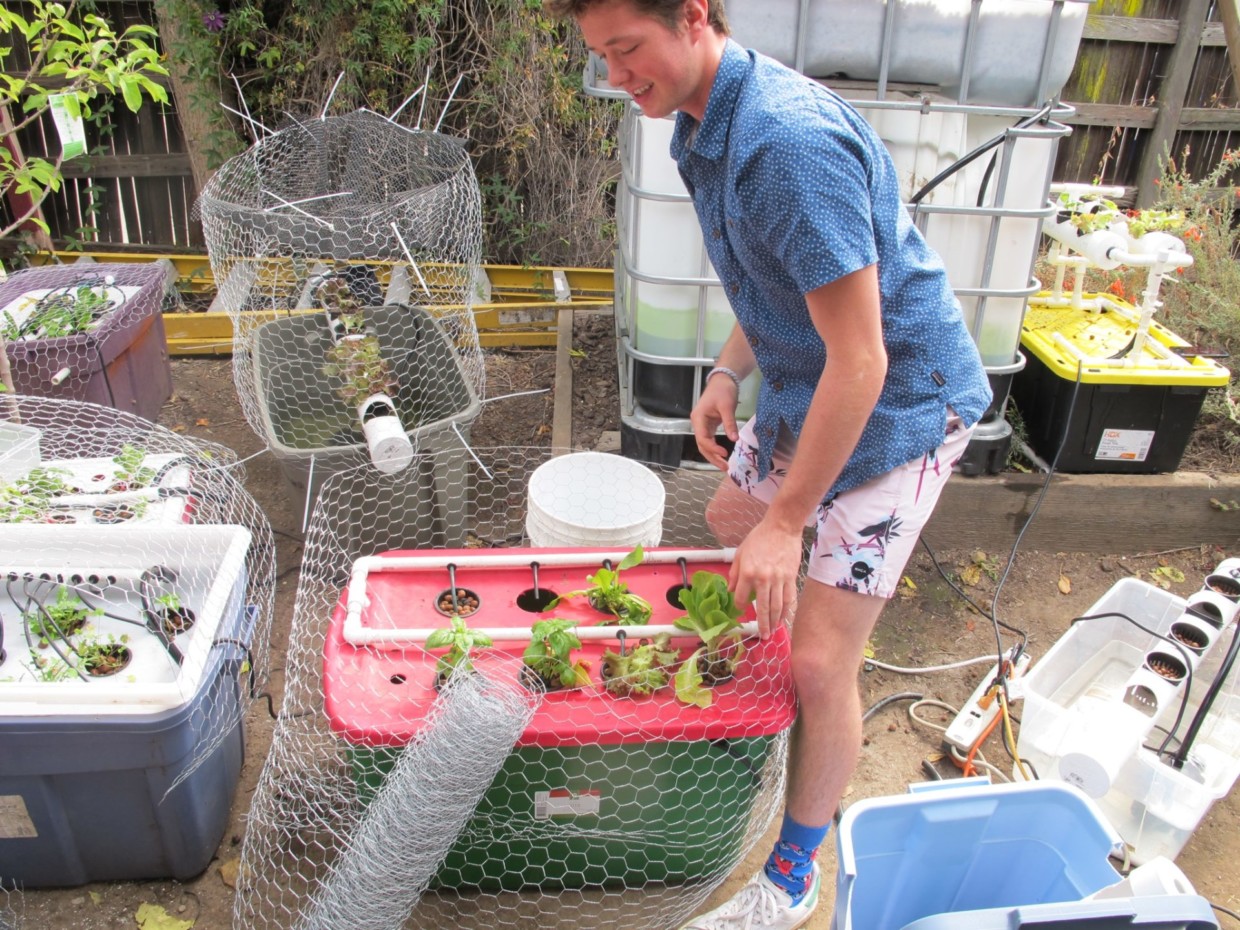 Students will wrap up the project in the next couple of weeks as they finish collecting and analyzing data.