Photo Credit to Bob Dahlberg
Tie game. Late in the fourth quarter. M-A quarterback Miles Conrad finds seldom-used junior wide receiver Jake Wang for a game-winning touchdown putting the Bears up 42-35 and the home crowd erupts in cheers of triumph and jubilation. After Sacred Heart Prep (SHP) turned the ball over on downs on their final drive, M-A sealed their third straight win over their biggest rival.
The Bears started hot, as senior return man Nick Anderson took the opening kickoff 95 yards to the house to put the Bears up 7-0. Anderson then finished the first half with two more touchdowns, returning another kickoff for a touchdown and rushing for a 51-yarder. M-A led SHP 28-21 at the half.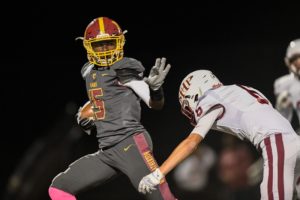 On defense, M-A struggled against SHP's rushing attack all night, giving up 35 points to the Gators at home. A few big pass plays for SHP opened up the running game against the Bears' defense all night allowing the rival Gators to stay within the striking distance. Midway through the fourth quarter SHP quarterback Brad Yaffe threw a 10-yard dart to the end zone to tie the game 35-35 with 6 minutes to go.
However, SHP could not keep M-A off the board for long as on the next drive M-A senior quarterback Miles Conrad led a 90-yard, two-minute drive to give the Bears a 42-35 lead, finishing the drive with a 15-yard TD pass to Wang.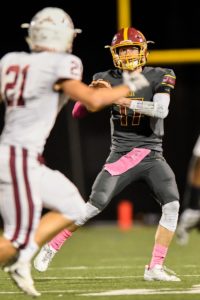 Senior Spencer Corona who leads the team in receiving yards on the year described the victory saying, "We fought hard, we just need to continue to get better and prepare for our upcoming games. We have depth. Anyone on our team can step up at any time".
M-A is now 4-2 with four more games left in the season, including matchups against undefeated Half Moon Bay and Senior Night next week against Aragon. M-A hopes to win out the regular season and take home another PAL (Peninsula Athletic League) championship.