The M-A boys Water Polo team's fantastic season came to an end after losing a close game to arch-rival Menlo School by a score of 5-4 in the first round of the Central Coast Section (CCS) playoffs. Overall, the Bears finished with an overall record of 17-10 and a dominating 5-1 in Peninsula Athletic League (PAL). Some of the marquee wins for the Bears were two 12-5 wins against Woodside and Half Moon Bay in the PAL playoffs as well as a 15-2 victory over Palo Alto High School. This season was an improvement from their 15-15 overall record in 2016.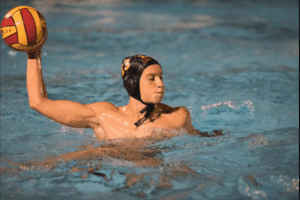 The boys' water polo team was a very close group and was led by four senior starters: Andy Maxwell who was second all-league in PAL, Nik Caryotakis and Chris Lobdell who were first all-league in PAL, as well as Noah Smith who was the most valuable goalie in the PAL league. Smith states, "I try to do as much as I could to positively motivate the guys before and during games, even in bad situations. In the game as a goalie, I'm able to see much of what's going on so a lot of my focus is around directing the guys and alerting them to an open man."
Many of the water polo teams in the past have been special but the present team has been memorable not only in terms of their record but also their genuine love and support that everyone shows day in and day out. Lobdell said, "I think what makes our team so special is our chemistry. We weren't the most talented team in the section but we always went out and played well together, executed the game plan, and had fun while doing it."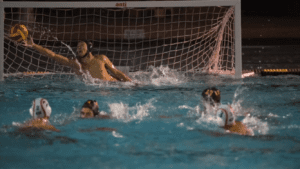 Smith explained, "I think what makes this team so special is that we are all really close and supportive. We got each other's backs… and find success in games because of this closeness and trust, and are able to beat teams who on paper are more talented than us through teamwork."
There were also many lasting memories that the team will never forget but especially the seniors as they graduate from M-A. One of Smith's most memorable moments was a trip to Southern California. Smith said, "My fondest memory was probably when the team traveled to Southern California for a tournament, and we played hide and seek in the dark. One of the guys climbed into a bed between the mattress and the springs, so every time he moved the entire bed shifted. For some reason, it was really funny."
It is sad to see that the season is over for the boys water polo team but they represented the school very well throughout the season which they should be very proud of.
Scroll down to leave a comment.