This is the twenty-second article in Bears Doing Big Things, a weekly column celebrating the stories of notable M-A alumni. Read last week's article here.
"I love thinking about human nature and observing how we interact with one another," said Alexandra Nikolchev '01, a documentary filmmaker who is passionate about creating space for unexpected voices through film.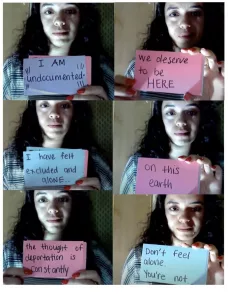 At M-A, Nikolchev was an enthusiastic English student interested in philosophy and theater. She went on to study rhetoric and journalism, work at several education nonprofits, and produce documentaries centered on social justice issues, often with a focus on immigration. Nikolchev explained, "When people realize they have an important story that hasn't been heard, I see their eyes light up. There are so many untold stories out there that will inspire other people—stories that will remind others of their own journeys." She won a Peabody award for her documentary No Le Digas a Nadie (Don't Tell Anyone) following a young, undocumented woman, Angy Rivera, and her journey to getting a visa to stay in the U.S., and also received an Emmy Award for a three-part PBS investigation into the U.S. Border Patrol.
"Through my documentaries, I try to give a platform to people who are underrepresented elsewhere—to discover the lesser-told stories and share them in a meaningful way."
Looking back on her high school experience, Nikolchev remembered, "I had a lot of really awesome English teachers. They were great storytellers and they loved characters." Two standouts were her sophomore English teacher Liane Strub, who "made us think about who we wanted to be in the world," and her freshman English teacher Joseph Fuchs, who "was very zen and even-tempered, and taught us how to have a meditative view on life."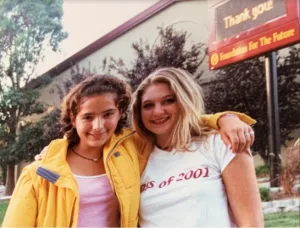 "Ms. Strub was super passionate about the content, which made us passionate too," Nikolchev said. "She talked a lot about existentialism—it was sort of a philosophy and English class. We read Hemingway's The Sun Also Rises, which is still one of my favorite books because the characters are faced with defining what makes a life to them and what morals they want to live by. The characters are also very imperfect people, traumatized by war."
"And Mr. Fuchs was so calm," Nikolchev continued. "He taught us so many lessons about life—even if students were stressed or having a hard time in the class, he was like, 'Hey, you might not do well on this test today. Study more next time and you'll do great.' He just always made us feel like it was going to be okay. He also had a lot of posters of Italian clowns and Venetian boats around the walls of the classroom, so I remember looking around and imagining I was in Venice, Italy."
Outside of class, Nikolchev played on the M-A volleyball team and helped direct school plays. She remembered, "I didn't get a lot of the roles I wanted in the plays, and then somebody told me I had the energy of a mother—whatever that means—essentially, not the right energy for the parts. After a lot of rejections, I finally got to direct the play with my best friend David Menninger, which was super fun. I loved drama and met a lot of great people through it."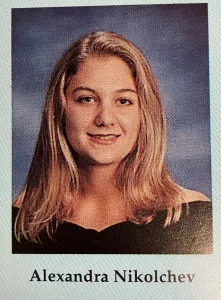 One of Nikolchev's favorite weeks at M-A was "Diversity Week," a week during her freshman year when the different feeder middle schools were mixed up into small groups and students spent the week doing activities together. "One of the amazing things about M-A is that there are so many different kinds of people everywhere and so many cool opportunities to get out of your little bubble," she said.
"In school, I always wished there were more classes that taught us about our community, and also about ourselves and what we cared about," Nikolchev added. "I wish I had gotten into journalism earlier than I did. I've always enjoyed learning about my communities and myself, so documentary filmmaking ultimately ended up being my way of doing that."
After M-A, Nikolchev attended UC Berkeley, where she lived in a co-op with 80 other students. She spent her time there organizing parties for her co-op, working at a local restaurant, and doing lots of homework. "I was interested in philosophy and writing, so I ended up studying rhetoric with a minor in education," she said. "Within the rhetoric department, students could specialize in law, politics, film, or philosophy, and I chose philosophy."
In one of her favorite college classes, Nikolchev studied Heidegger's philosophy. She said, "One interesting concept I took away from Heidegger was that whatever you choose to say, you are then not saying something else. Whenever you shed light on something, something else is then being put in the dark by that light. We had a great grad student helping us with that class—since the classes are so huge at Berkeley, you go to a big lecture hall and then to smaller discussion groups led by grad students. Our discussions on Heidegger were always super fun."
Nikolchev also enjoyed studying the power dynamics behind language. She explained, "It's really interesting to look at language as not being neutral—somebody decided what we can say and how we can say it. I liked learning about how our society and our language have been created over time by certain groups throughout history."
After graduating from college, Nikolchev remembered, "I had no idea what I wanted to do. I didn't want to go into law, and I didn't want to go back to school right away. Then, someone told me some really good advice: if you don't know what you want to do after you graduate, just do something totally wild. Your early twenties are one of the times in your life when you can do something completely out of the norm, like move to another country or take a job that you know you're not going to want a career in, just for the experience."
So, Nikolchev moved somewhere a friend was living but otherwise had no connection to—Asheville, North Carolina—and spent a year of service working with a nonprofit organization through AmeriCorps. She volunteered at an after-school center helping middle-school students with homework and worked with a theater program helping kids write and perform their own plays. "My mom works in education and my grandmothers were teachers, so I think I always had education in the back of my mind as a potential career path," she said. "But I realized that teaching wasn't really where my passion was—to teach, you really have to love to teach."
Trying to find her place in education, Nikolchev moved back to California to work for an education policy nonprofit called Preschool California in Oakland. She said, "When I worked in education policy, I kept wanting to hear from teachers and students. The job involved more working with politicians, and I didn't really care as much about that. I worked there as a project assistant for three years and it was a great work experience. I learned a lot about how to be professional, but I also realized that education policy wasn't for me."
At first, Nikolchev wanted to teach media to kids. She said, "To me, it felt like that was something that was missing in education: helping kids to see the value of their own stories. I was trying to figure out how to teach media to kids, and I remember a conversation with my mom when she was like, 'You love watching documentaries. Why don't you just make a documentary?' That's when I realized that making documentaries is actually a real job, so I decided to go back to school and learn more about it."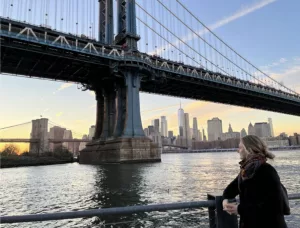 So, Nikolchev sidestepped into filmmaking by moving to New York and earning a Master's degree in Journalism from NYU in 2010. She remembered, "I learned about reporting and the ethics of fact-checking—it's a lot of responsibility to put somebody else's words, and life out in the world. I learned how to write, and to use cameras, and to edit film." At the end of the program, Nikolchev created her own half-hour documentary, Part of Me Came Home, about a foster care program.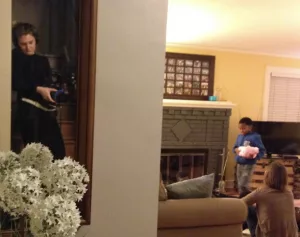 "My favorite part about filmmaking is being able to embed myself in someone else's world," she said. "I'm a people watcher. I don't like being the center of attention. I like watching others, and I get to do that when I film. It's also very satisfying to watch people see themselves on screen and realize that their story matters. I really enjoy empowering others."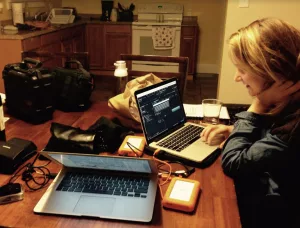 Nikolchev worked for PBS in New York for three years, producing short films on a variety of topics, including voting rights, chemical pollution, Medicare, famine in Somalia, and girl mathletes. Several of her PBS films, including Making it in America: Immigrant Entrepreneurs, Eugene Hutz: Immigrant Punk, and the Emmy award-winning series Crossing the Line at the Border, focused on immigration.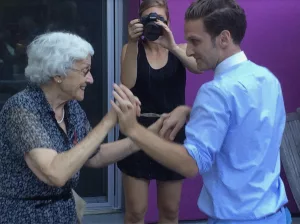 The topic of immigration is close to home for Nikolchev because her father immigrated to the U.S. as a refugee from communist Bulgaria when it was part of the Soviet Union. "My dad left Bulgaria at age 13. My grandmother was a math teacher and she was allowed to work anywhere within the Soviet Union, so she got a job in Congo, which was also under communist rule. My grandfather took my dad and aunt to visit her on a 'vacation,' planning to escape and never come back. They ended up in Italy at a refugee camp, where they lived for a year while waiting for asylum, and then arrived in the U.S. in 1969," she explained.
"Immigration is really interesting to me and I've done a lot of reporting on it," she continued. "People who leave their homes and everything they know to make a better life—I love those stories. I find them really inspiring, and those people are heroic to me. Too often, the stories we hear today about immigrants are dehumanizing. Immigrants are such a big part of why America is a great place to live, and I want people to recognize and get to know immigrants as individuals who are just as worthy of human rights as American citizens."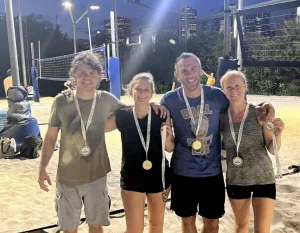 After leaving PBS, Nikolchev produced her freelance documentary film No Le Digas a Nadie. She explained, "The film follows Angy Rivera's remarkable story as an activist for the rights of undocumented youth and her journey to getting a visa to stay in the U.S. It's a film about courage, facing insurmountable obstacles and the determination to fight for justice." Rivera had grown up hearing "don't tell anyone" about her status, so that became the name of the film: No Le Digas a Nadie.
Nikolchev now lives in Brooklyn, New York, and continues to produce freelance documentaries. In her free time, she enjoys taking long walks through the city and playing pick-up volleyball with her friends.
Nikolchev's advice to current students: "Don't worry too much about being on a path that will set you up for success. Instead, do what lights you up, and seek mentors along the way. I learned so much by reaching out to strangers whom I admired because of a film they made or a job they had. I would ask to schedule coffee or a call about career advice. It surprised me how many people responded. And then I'd ask how they got to where they ended up. The most interesting people I know take winding paths to find a job they love. 

Also, when I first started working, my dad had this great advice that when you're finding a job, you should be trying to do at least two of these three things: doing something good for the world, enjoying yourself, and making money. You will often only be able to do two of those things really well, but you should never be checking only one box."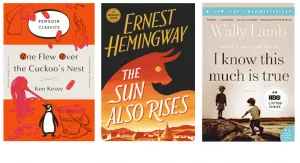 On her favorite books, Nikolchev said, "Well, The Sun Also Rises. I also loved I Know This Much is True by Wally Lamb, which was about twins: as they became adults, one of them became schizophrenic, so it's the other brother telling the story of what it was like to watch his twin lose touch with reality. And I also enjoyed One Flew Over the Cuckoo's Nest by Ken Kesey and Blonde by Joan Didion about Marilyn Monroe. What all these stories have in common is they focus on the underdog, and voices that challenge mainstream narratives about the world."
Disclaimer: Bears Doing Big Things is not meant to be a list ranking the most accomplished or famous M-A graduates on Earth. It is a collection of people with a wide range of expertise, opinions, and stages of life who were kindly willing to share their stories. There are 45,000+ additional accomplished M-A alums out there, so keep an eye out for them!