After losing their first game of the season to St. Mary's (Stockton), the M-A girls varsity basketball team won 26 games in a row en route to another stellar season. The season marked the team's third straight year as Peninsula Athletic League (PAL) regular season and playoff champions after beating South San Fransisco in the PAL final 60-41. After winning PAL's, the Bears went to the Central Coast Section (CCS) Open Division playoffs for the second straight year.
The Bears lost their first CCS game to Valley Christian in a three-point heartbreaker but won the consolation championship after dominant performances over Saint Francis by a score of 70-63 and over Saint Ignatius by a score of 71-61. Finally, the team qualified for Norcal Division 1 as the #1 seed in the North but lost in the second round to Folsom. The team finished with a 29-3 record (12-0 in PAL) and ended the season ranked 22nd in California.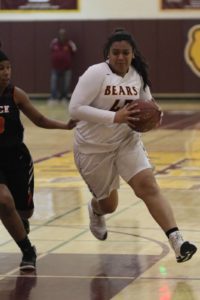 Four seniors will be graduating this year: Ilana Baer, Megan Sparrow, Kyra Sheeper, and Ofa Sili. Baer was the Bear's starting point guard all season long and averaged 5 points per game and 4.6 assists per game. Sparrow started down low for the Bears and averaged 6 points per game along with 6.3 rebounds per game.
Sili was the team's third-leading scorer and dominated in the paint throughout the season. She averaged 9 points per game and shot 65% on free throws. Sheeper did not get as much playing time, but helped to cheer on her teammates and gave it her all whenever she got on the court. The seniors will be missed, but M-A has plenty of talent returning next year.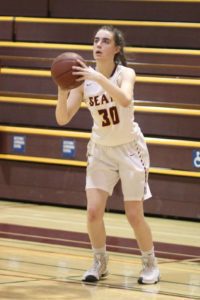 The team's two star players, juniors Greer Hoyem and Carly McLanahan, will be back next year for their fourth straight years on varsity. Hoyem averaged an incredible 19 points per game, grabbed the most rebounds on the team at 7.9 per game, and also averaged a team-high 1.2 blocks per game. McLanahan averaged 12 points per game, shot 37% from three, and made an astonishing 91 three-pointers during the season.
Hoyem and McLanahan will be joined by current juniors Makenzie Hazard and Ashley Tiznado, as well as underclassmen Oron Estes, Linnea Lindblom, Emilie Mueller, and Erica Fischer.
The Bears will have all the pieces necessary to make yet another playoff run next year. Hoyem and McLanahan have been dominant varsity players since they were freshmen and their stats have improved every year. Next year, they will be even more daunting competitors if they continue to improve.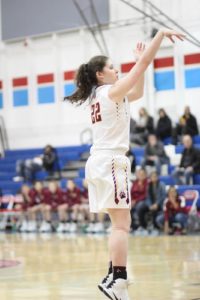 Coach Markisha Coleman prided herself on her team's defense and efficiency throughout the year and Coleman plans to continue coaching capable M-A teams for years to come.
With excellent coaching and excellent players, the next few years look bright for the M-A girls varsity basketball team.