The girls lacrosse team has had a fairly solid season thus far, and they hope to continue their recent success over the next few weeks as the head in to the championships. A recent trip to Arizona has also brought the team closer together in hopes for some postseason wins.
The Bears have several key contributors including junior Hannah Shaw who leads the midfield and takes the draws. Sophomore Audrey Koren, senior Annie Payne and junior Leiney Paul lead the Bears in scoring. The defense is led by juniors Grace Carlson and Izzy Carhart and they both hope to lead M-A next year as they will both be returning. Junior Meghan Child and senior Ashley Tiznado are key pieces to the defensive effort as well.
Payne has really stood out for the Bears on this year's team. Payne is planning to play lacrosse at the collegiate level at Oberlin College starting in the fall. She has also fought back from an ACL tear which she suffered last year as she has come back to playing in top-form.
The Bears have several goalies that include juniors Hunter Zell and Jillian Mullarkey. Senior Beatrix Geaghan-Breiner, who plays attack and midfield states, "The team is playing a lot better right now and I like the direction that we are headed. We are all excited for what's to come."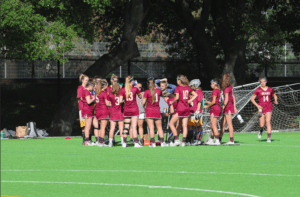 The Bears found their recent trip to Arizona to be a huge success as the team had some quality bonding time and played well in their two games as well. Coach Juliet Mittlemann is the coach for the Bears along with assistants Janine Sung and Kylie Drexel.
Geaghan-Breiner added, "Our trip was really fun and we really grew as a team. Hopefully we can have a really fun Senior Day and finish out the season on a high note."
Senior Day is May 1st at M-A and then a few days later the playoffs begin. Thus far, the Bears have maintained a 6-4 league record and they plan to improve on this as their season comes to the close. Good luck to Bears as their season heads into the finishing stretch.