The M-A girls wrestling team brought home the Central Coast Section (CCS) championship title for the second year in a row this past weekend, concluding another fantastic season. The team had six wrestlers qualify for state championships: four individual champions with sophomore Anna Smith and juniors Lauren McDonnell, Abby Ericson, and Folashade Akinola; juniors Angie Bautista and Evelyn Calhoon made it to the championship round but both ultimately fell short of the title. Senior Livienna Lie also placed sixth.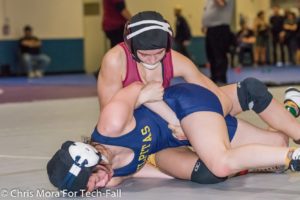 Going into CCS, the team had four girls seeded first, and three others in the top seven in their weight classes, so their performance on Friday and Saturday came as no surprise. "You're never exactly sure what will happen, but we really believed in our team," said McDonnell, team captain for the second year in a row.
Girls wrestling's incredible 2017 to 2018 season is a continuation of the unprecedented success that McDonnell and Coach Philip Hoang led the team to last year when the Bears had a similarly dominating season. Defending their title as CCS champions was a way "to show what we've worked on so hard for this entire season and past seasons," said McDonnell.
"It felt really good to show our power," she added.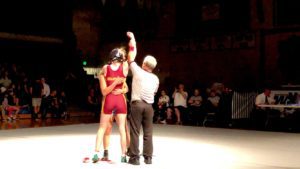 McDonnell herself was awarded wrestler of the meet; the team swept the competition with 217 points (Alisal, the second place team, ended the tournament with 172). "It got to the point around halfway through the second day, we knew there was no way any other team could win," said McDonnell.
The Bears will continue showing their power at the state championships on February 23 and 24 at the Visalia Convention Center. "We're super focused on going to state and just what we need to work on to get there," said McDonnell.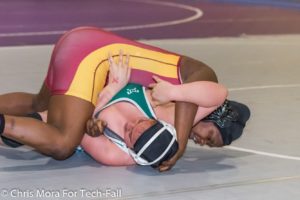 McDonnell attributes the team's rapid ascent to the best girls wrestlers in CCS to the dedicated coaching of Hoang, and the strong bond the girls share. "We have such a positive environment and we're all helping each other out," she said.
Besides winning CCS and dominating at every tournament they went to, McDonnell said the best part of the season for her has been watching her teammates grow. "Seeing the switch go off in some wrestlers, like a confidence switch almost, separating you from being a beginner wrestler to moving on to… going to matches and really dominating… was a highlight throughout the season."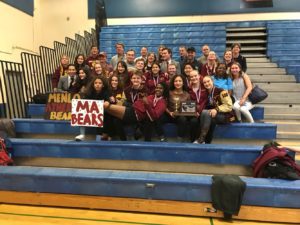 With a roster full of star juniors and sophomores, and two years of excellence and grueling dedication already under their belt, the Bears have much to anticipate next season. Of their goals looking forward, McDonnell said, "Once you place first you can't really get any better, so maintaining what we have and the community we have as a team, and just working on getting better, our technical skills, always trying to achieve the next level."
"I just really love this team and I can't wait to see what happens next year, and in the postseason!" she concluded with a grin.
Scroll down to leave a comment.