Four years after creating the girls wrestling team as freshmen, seniors on M-A's girls wrestling team finished off their high school wrestling careers by placing second in the state, the highest the team has ever placed.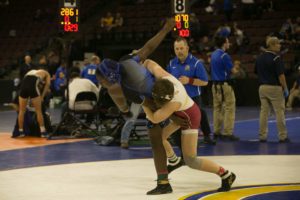 Entering this season, people knew that there were high expectations for the wrestling team after winning CCS titles the past two years. Evelyn Calhoon stated that she believes the team's success this season "came from [their] ability to not focus on success." Ever since founding the wrestling team, Calhoon and other team founders' "priority has been to create a culture based around inclusivity, hard work, and dedication. From having those attributes we've been able to have so much success."
The girls wrestling team came into CCS with girls wrestling in 11 out of 14 weight classes, all of whom made it through the first day of elimination. Lauren Fuller made it through to consolation quarterfinals and Alex Lujan made it to consolation semifinals.
Lauren McDonnell remembers Paola Ramirez's semi-finals match as one of the most memorable because "she had been working unbelievably hard since the summer, and at CCS she pinned the girl ranked number one at CCS. We just went crazy when that happened."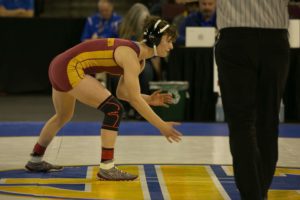 Evelyn Calhoon pinned her opponent in her finals match in only 34 seconds, the fastest pin ever in a CCS finals match. Despite the high stakes of the match, Calhoon "didn't feel very nervous. I just felt excited. My style of wrestling is really high pace and usually people like to watch it because it's so high pace. I wanted to make [the match] enjoyable for people watching me and make it something I'm proud of."
Fola Akinola came into CCS seeded first. After winning her finals match she became a four time CCS Champion, the only wrestler ever from M-A to do so.
The M-A Bears ended up having seven state qualifiers. Calhoon, McDonnell, Abby Ericson, and Akinola all won their respective weight classes at CCS. Ramirez, Anna Smith, and Angie Bautista all placed second at CCS in their weight classes.
Going into states the Bears knew that winning the state title would be an uphill battle as San Fernando had 13 wrestlers qualify for the tournament and M-A only had seven. Nevertheless, McDonnell said that the team's focus was not on "where we placed at the end of the season. We just wanted to have no regrets and feel proud of how we wrestled."
At states, one of the most impressive matches was between M-A's Bautista and three-time CCS Champion (2017, 2018, 2019) Mia Olmos. On the second day of states, Bautista fell into the consolation bracket and ended up against Olmos. Bautista beat Olmos, and she placed sixth in her division. This was a major feat as no M-A wrestler had ever won against any of the Olmos sisters before, but Bautista was able to pull it off.
Akinola won a state title, becoming the second wrestler ever from M-A to do so after Chelsea Wilson in 2017. Calhoon brought in points for the team by placing third in her weight class, and Ericson was able to make it into the consolation bracket and place seventh.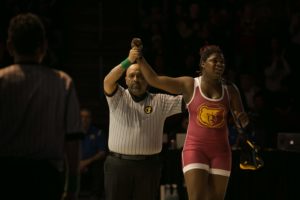 McDonnell stated that early in the season the returning wrestlers "decided not to separate returners and new wrestlers into separate teams. We all wanted to practice together to build a strong culture within the team." This strong focus on the team as a whole payed off as M-A placed second.
McDonnell feels that this season was defined by the culture she and other founders of the team were able to create, "which is to put others before yourself, support your teammates, be willing to sacrifice your time and energy, and just to do everything you can to make sure that the people around you are succeeding." She believes that the girls wrestling team "is not just a team, it's a family."