The M-A football team looked ready for a deep playoff run Friday night, defeating eighth-seeded Wilcox High School 42-14. The win extended the team's win streak to nine games, with its last loss in the first week of September. This week, the Bears will have a rematch against Bellarmine, a team they lost to in the first week of the season, 34-20.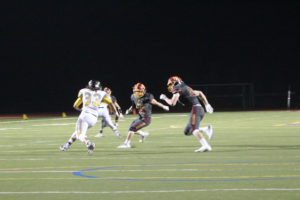 M-A got off to a great start, leading 21-7 after the first quarter. The second quarter was tightly contested with each team scoring a touchdown, resulting in a 28-14 lead for the Bears. In the second half, the Bears dominated Wilcox, shutting their opponents out and scoring 14 points of their own, running up the score to 42-14.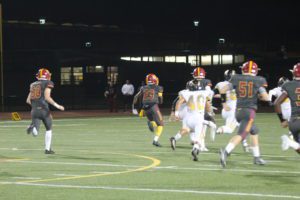 On offense, the Bears lit it up with an outstanding 42 points. Quarterback Aajon Johnson had a dominating game both in the passing game and running game. Johnson had 12 completions for 233 yards and two touchdowns in the air. Equally as impressive, Johnson rushed the ball 14 times for 52 yards and three touchdowns. Jordan Mims had another impressive night carrying the ball 13 times for 151 yards and a touchdown. Mims now leads the Central Coast Section (CCS) in total rushing yards. Both Spencer Corona and Aaron Johnson had impactful performances, each with two receptions and a touchdown.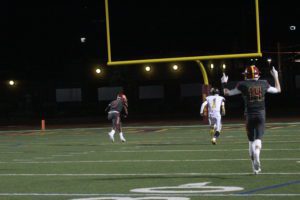 Like any well-balanced team, the Bears also had a dominant performance on defense, holding Wilcox to zero points during the final two and a half quarters. M-A combined for a total of 129 tackles in an incredible display. The team also sacked the opposing quarterback 4.5 times and tackled opponents for a loss 14.5 times. Senior Christian Wiseman led the way in tackles with 25 total tackles. A recent call-up from junior varsity, Feleti Malupo, scooped up a Wilcox fumble and ran it back near the end zone. Stavro Papadakis, an offensive and defensive player, recorded two sacks in the game.
In special teams, Corona continued his dominance in making extra points by converting on each one of his six attempts through the game. He was also extremely proficient on kickoffs, averaging 59.1 yards per kick.
M-A plays Bellarmine in the next round of CCS playoffs, taking place at 3:30 p.m. on Friday, November 18. Bellarmine defeated M-A in the season opener. The Bears look to get revenge on the West Catholic Athletic League (WCAL) powerhouse.