The M-A varsity football team had a successful season in 2015 and was a co-league champion for the Pacific Athletic League (PAL). Some key wins during the year were a 59-34 win over Woodside, a 17-14 win over Sacred Heart Prep, and a 27-24 win against Sequoia. The Bears qualified for Open Division Central Coast Section (CCS) Playoffs and lost to San Benito 21-19 in the first round.
This year they are looking to win the league title again and make a longer run in CCS, behind key contributions from seniors Jordan Mims on offense, who is being heavily recruited by Division I schools, and Christian Wiseman and Stavro Papadakis on defense. Both Wiseman and Papadakis are being recruited and head coach Adhir Ravipati expects that both of them will also play Division I football next year. This year M-A has already beaten Serra in a scrimmage and lost in a hard-fought game to Bellarmine, 34-20 at San Jose City College. After the Bellarmine game, we spoke to Ravipati about his team's performance. "There was a slow start but once we started playing with confidence we were fine. I think we were the better team and I think the players and coaches also feel that way. Hopefully we'll get another shot at Bellarmine come the playoffs," said Ravipati.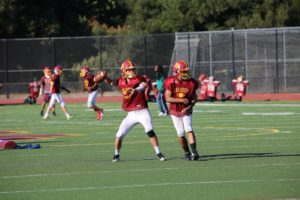 This season, junior Miles Conrad and senior Aajon Johnson will be splitting the quarterback duties. Coach Ravipati has confidence in both quarterbacks: "I think we have two guys that are deserving of being starting quarterbacks and have quarterback talent. Both the guys have a lot of talent and ability so for us we are going to let those guys earn it during game time. I see no reason to name a guy for the sake of naming a guy. We'll let them compete for it."
The wide receivers this year are junior Spencer Corona, and seniors Tate Tussing, Marquis Reid, Aaron Johnson, and Mekhi Blackmon. They are sure to get more touches this year because of the experience gained by quarterbacks Conrad and Johnson.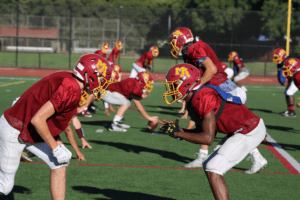 The team lost a large contributor from last year, Bryce Rodgers, who is now playing football at UC Davis. When asked about Bryce's departure, Ravipati responded, "I don't think you can really replace Bryce. I mean, Bryce isn't redshirting at UC Davis. He's gonna be playing Saturday against Oregon and getting playing time so he's a special kid and a special football player." The loss of Bryce is a tough one, but M-A has some players who are ready to fill his roles right away. "On the line, Epeli Mataele (12th) and Noa Ngalu (10th) are two guys who have really stepped up and who will help fill that void at the interior D-line as well as on the offensive line."
The team also lost key players Marcus Gershenberg, Justin Friedsam, Ben Stanley, and Kevin Shimbo, all of whom graduated last year. "Those are a couple guys that come immediately to mind that we are going to have to try and replace. We have I think 16 or 17 starters coming back so there is a lot of experience on the team."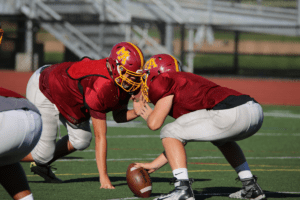 Last year, as a junior, Jordan Mims rose to become the best running back in PAL. This year he will have a large role on the team. Ravipati explained, "Jordan is a special talent. He's got four Division I offers already and he'll get more by the time signing day comes in February. When you have a guy with that kind of talent you want to get him the football."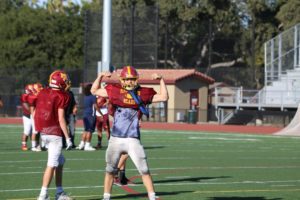 Defensively, Ravipati and his staff believe they are filled with talent and potential."At our line-backing core we have four guys who have played since their sophomore year. That's Bryan Kang, Christian Wiseman, Stavro Papadakis, and J.P Gray. Stavro and Christian will both play football at the next level. We're really excited about that group as well as our secondary."
Some of the most athletic players on the team are playing both wide receiver and in the secondary. Ravipati said of the secondary, "Mekhi Blackmon and Tate Tussing I think are two of the best cover corners you are going to find around here.Those guys do a heck of a job on the outside, and then at safety we have Kevin Jagger and Marquis Reid. They are both impact players who have played a lot of football. Josh Lepulu at free safety has been a nice edition on the defensive side of the ball."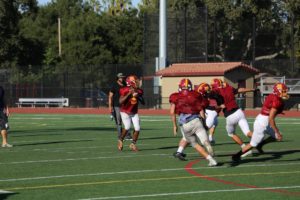 The coaching staff could be the best it has ever been this year. M-A has added a new offensive coordinator in Calan Landreth. He will be attempting to speed up M-A's offense, instituting more of a no-huddle, spread offense. Drew Ryan, the defensive coordinator, played safety at San Jose State. His brother, Spencer Ryan, coaches the linebackers. M-A has two line coaches who played professionally in Adam Juratovac and Greg Banks. A former M-A quarterback who graduated in 2012, Willie Fonua, is the quarterback coach. Finally, Vince D'amato, a former NFL kicker, is the special teams and kicking coach. When asked about his staff this year, Ravipati replied, "I wouldn't be able to do anything I do without those guys. They're very good coaches and I'm blessed to have them on my staff."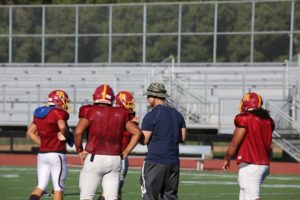 Ravipati explained the contributions of experienced players in leading the team: "From a leadership standpoint, both of our co-captains, Marquis Reid and Tate Tussing, have done a great job, as well as our whole senior class." This year, Ravipati will be less involved offensively thanks to some new hires."I've traditionally been an offensive coach in the past. I think this year I've kind of had my hands on both sides of the ball just because we've hired an offensive coordinator to take over that side. I spend a lot of times during and before games making sure that I am involved in the game plan on both sides."
The Bears expect to go far into the playoffs again this season and have looked good both on and off the field. When asked about the team's expectations, Ravipati responded, "We have high expectations of the team and they have high expectations of themselves. I think we've got a chance to make a pretty good run here. We only have 32 guys on the roster but I trust every single one of them when they are in the game. We're really happy with the progress of the study-hall program. Our GPA is higher than it has ever been. We've never had this many kids in the program. We have a stable freshman team. There's a lot of really good things happening."
Some big games to look forward to are Los Gatos on September 16 and Sacred Heart Prep (SHP) on October 14. When asked what he thinks the biggest games are this year, Ravipati said, "Los Gatos on the 16, they're traditionally one of the best public schools in CCS. They have a very good program. In league play, everyone is always interested in the SHP game and I'm sure they'll be looking for revenge this year so we're looking forward to playing them. The game versus SHP is their homecoming game as well so we'll be looking forward to spoiling that for them."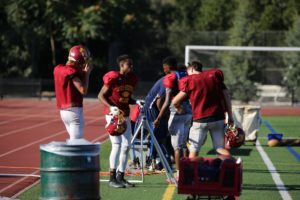 M-A lost in an exciting game to North Coast Section (NCS) powerhouse Marin Catholic, 31-25 on September 3. View live tweets from the game at twitter.com/themachronicle. We conducted the interviews in this article before the Marin Catholic game.