On Thursday, M-A Robotics educated the public at Science Night, a free biannual event held at the local Menlo Park Library with the goal of encouraging hands-on learning and creating a fun event for families and attendees of all ages (especially elementary school aged children) to enjoy. This was the seventh Science Night in Menlo Park history and the third time that M-A Robotics has participated. Other participants include (but are not limited to): NorCal Bats, the San Francisco Bay Bird Observatory, SRI, and the Bay Area Discovery Museum, and Kidizens.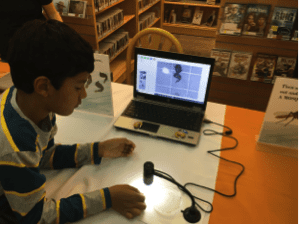 In years past, M-A Robotics has brought large robots to the event, but this year they opted for a wheeled shooter, a small contraption with two wheels that spin in opposite directions in order to launch paper airplanes. Sophomore and leader of the software team, Maya Khodabakchian, recognized that this was the right move, not only because a wheeled shooter is safer but it is more hands-on since the children can make the paper airplanes themselves.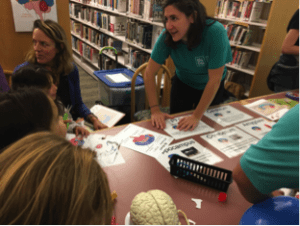 Sage Ugras, sophomore, stated that she hopes students of all ages and genders will gather that robotics is a fun and engaging experience. Khodabakchian shared similar sentiments, saying that hopefully Science Night will "spark their interests" and encourage kids to "stay curious."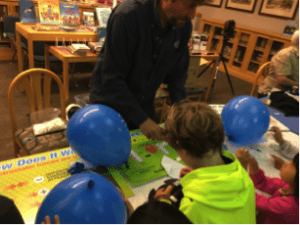 The library's main hall was packed with children eagerly participating in the activities each booth had to offer. Cecilia, a six year old, said that being a scientist is fun because "you get to discover a lot of new things."
Ravin Singh is the author of My Scientist Friends, which he calls "a collection of rhymes about ten scientists," did a book signing at Science Night. He wrote this picture book because he believes "science is the basis of progress and making the world better, so if we can get [children] engaged through fun and rhymes we can get them a lifelong love of science."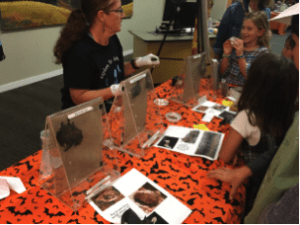 M-A Robotics is an afterschool program that any Menlo-Atherton student can join. Khodabakchian and Ugras describe the program as "welcoming," saying that anyone can come to their meetings (Wednesdays at 6 pm and Saturdays at 12:30 pm in Mr. Leeper's room) to join the robotics team, even without any prior robotics knowledge. Khodabakchian believes that learning about robots and machinery is important because "the future is automation."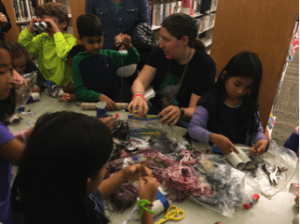 Support Friends of the Menlo Park Library, a non-profit organization dedicated to making events like this available to our community.