The Bears had a fantastic day on Friday, May 5, as M-A hosted the Peninsula Athletic League (PAL) trials for all of the teams in the league. The Bears absolutely dominated the rest of the field as many individuals cruised to PAL championship qualification.
Senior Tate Tussing claimed the long jump title as he won the long jump with a jump of 21'6" which is seven inches further than his best ever jump. Sophomore Nick Hafer ran a 2:01.73 in the 800, the 14th fastest time in school history. Hafer hopes to continue his successful run into PAL Championships next weekend. Hafer explained: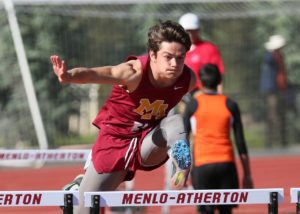 "It's all mental. Once you get in the mental block, you can bring it down and run as fast as you want." Hafer credits his strong mental performance to his coaches, Alan Perry and Luca Signore.
"Perry and Signore give us these really great workouts. They are pretty tough sometimes, but they really help us out a lot in the long-run."
Senior Andrew Scoffone ran his best time in the 110 Hurdles to finish as the top qualifier for next week's final. He also placed third in the 300 Hurdles.
Sophomore Maggie Hall won both the 100 and 200-meter dashes and she prepares for a possible historic PAL championship this weekend.
The girls 300 Hurdle crew of Charlotte Schroeder, Megan St John, and Kalina Zanelli all qualified for finals. They placed first, third and fifth respectively and are all set to vie for the PAL crown this upcoming Saturday.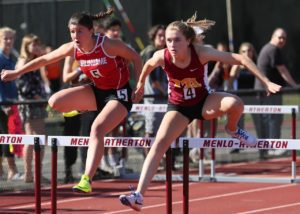 M-A will also be sending five athletes to both the 100 and 200 races, which is a feat that has not been achieved in recent history.
The Bears are extremely confident in their chances for this weekend as well as for CCS. M-A has dominated the PALs all season long, so the Bears are hungry to take home some hardware this Saturday. Hafer agreed.
"I am really excited for this week and CCS. I have confidence that we are definitely going to win."
Come out and cheer on the Bears as they host the PAL championships this Saturday, May 13 from 11 a.m. to 4 p.m. Good luck to the Bears in their quest to continue their dominance in the postseason!