The organization Bring Change 2 Mind has been fighting to end the stigma and discrimination surrounding mental health since 2010. By creating safe spaces, such as school clubs, and conversations around mental health, the organization helps to spread the awareness and understanding necessary to take action. This year, students are working hand in hand with school therapists and teachers to open a club appropriately named 'Bring Change 2 Mind.'
Helen Chaffee, one of the club's co-founders, says that a group such as the new Bring Change 2 Mind club, is long overdue, and will help give students the opportunity to educate themselves on topics surrounding mental health and speak out about their own experiences.
Club meetings will vary depending on the topic. Educational meetings will hold a series of presentations around mental health while administrative meetings allow students to discuss future presentations and organized events for the club. Chafee explained, "it's going to be a combination of reaching out to people who don't understand through the educational meetings, showing what the other side of it is [and give] a voice to the neurodivergent community where it is safe to share ideas about how to help ourselves and each other."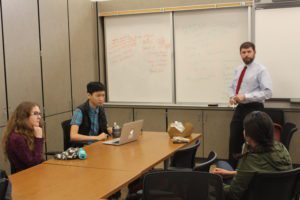 The Bring Change 2 Mind club, which meets in F-16 on Mondays during lunch, will allow people to advocate for themselves about issues which are still often seen as taboo and not seriously addressed. Chaffee noticed how as well as not being a widely discussed topic, "everything done to support mental health is kind of on the down low. And that shouldn't be the case because it perpetuates the idea that it is something that is shameful."
Mental health is often treated dismissively, as though the people dealing with mental illness just need to 'get over it.' Furthermore, mental illness is often discussed sarcastically and people who actually want to have serious conversations about mental health are disregarded as over exaggerating. This mentality, said Chaffee "is kind of dismissive. Saying, oh you'll just get through it isn't helpful." The stigmas surrounding mental illness can often lead to unwarranted assumptions, avoidance, and pity. The Bring Change 2 Mind club hopes to combat these stereotypes by educating the community about mental health.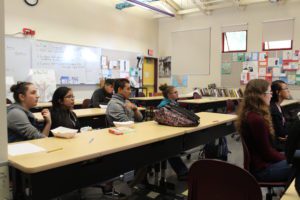 Around one in five people in the U.S. have some form of a diagnosable mental illness, with one in twenty-five suffering from serious impairment. The National Institute of Mental Health found that twenty percent of children in the U.S., ages 13 to 18, "currently have and/or previously had a seriously debilitating mental disorder. By comparison, 8.3 percent of children under age 18 have asthma and 0.2 percent have diabetes."
"Most people don't realize how pervasive it is," said Chaffee. With 43 million Americans suffering from mental illnesses, support systems, especially amongst students themselves, are few and far between. One of the club's main goals is to create a support network between students which would allow discussions about mental health to take place in safe, casual environments. Many systems can be overly structured, so building a community where conversations can be held in low-key settings, will help combat the idea the mental health is a taboo topic.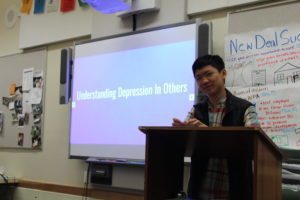 "High school can be a very stressful time for most people" said Sandy Han "and it is imperative during such a time to emphasize the importance of mental health. During high school, teens are faced with the responsibility of planning for college and adulthood while also facing the challenges that come from home. The goal of Bring Change 2 Mind is to help make Menlo-Atherton a safer place for all students to facilitate the creation of a strong, supportive community."
Besides creating a support network amongst students, the Bring Change 2 Mind club will also "host events to provide services for students. This could mean food or events in the community that specifically target reducing stress and tension among the student body" concluded Chaffee. The club thus hopes to not only make the school environment less stressful but also spread awareness about mental health and self-care.
Ultimately, the club will create "a safe space to talk about [mental health] either personally or generally." said Chaffee. Through the discussions the school had the opportunity to hear from the students what changes or additions should be made to the way M-A treats mental health. Thus the Bring Change 2 Mind club will create a supportive and open environment for the discussion about mental health, while also promoting the education and awareness about mental illness.