The Redwood City that was once another quiet Bay Area town has developed into a colossal construction zone, making it inconvenient for the residents and workers who have lived in Redwood City years prior.
Karen Vaughn, the principal planner for current planning in Redwood City, spoke about the construction on Marshall Street. "The plan lays out a vision for downtown Redwood City as a vibrant downtown core consisting of employment, residential, and recreational uses," Vaughn continued, "Concentrating development in downtown makes sense because of our downtown Caltrain station and easy commute options."
601 Marshall street was once two low-rise buildings for lease, but by the end of 2017, it will be transformed into a new apartment building available for tenants.
In 2016, the Indigo Apartment Homes building was completed, adding yet another one of many apartment buildings in downtown. Other completed apartment projects include Locale Apartments, Classics, Greystar 1, and The Marston by Windsor.
Broadway Plaza is a project that is still going through the approval process. "The project will provide 120 affordable units, and 1.56 acres public open space," Peter Tsai, vice president for the real estate development of the Sobrato Organization said.
Throughout these construction projects, Broadway Plaza has been the only projects to cater to the needs of low-income families by providing them rooms with an affordable rent. The 601 Marshall street project has one law firm as one of the main tenants.
Stanford University is following suit and has continued to expand their campus from Palo Alto, already starting their construction on the MidPoint Technology Park. Their project is predicted to finish by 2019.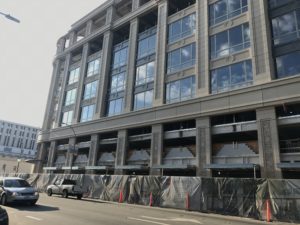 Redwood City has more buildings being constructed, however, residents are having a harder time adapting to the new changes. M-A senior Lena Reibstein said, "When I go out to dinner or movies with family or friends, sometimes I have to take a different route because some parts are fenced off at the end of the street."
Senior Arthur Cuenca said, "There's some sidewalks I can't really reach. I go around, and it usually takes longer."
Cuenca went on to say, "I believe that companies should help families get jobs and that the rent should decrease."
In the Broadway Plaza project, stores such as Big Lots and Foodsco have been removed completely as of January 2017. Foodsco was a grocery store that provided affordable prices for families in Redwood City, San Carlos, Belmont, and East Palo Alto. Upon its removal, low-income families and former Foodsco employees are at a disservice of the construction and now must find an alternative store.
As Redwood City reconstructs to be a dynamic and fast-paced city, elements such as rent, traffic, available parking, and grocery stores for low-income families will become more of a struggle.