This Monday, 27 student athletes celebrated their success and future continuation of their sport at signing day in the Ayers Gym. The ceremony was scheduled for April 4; however, due to the confusion of the school lockdown, it was rescheduled to Monday. The students sat at tables, while athletic director Paul Snow described their accomplishments to the crowd that gathered. Along with fellow students and friends were several supportive parents.
Lanie Van Linge will be playing tennis next year at the University of Michigan. "My favorite memory in tennis was winning a serving competition at age 12 and being flown to New York to compete in a tournament at Flushing Meadows (where the US Open is played)," says Van Linge, who never lost a league match. Teammate Julia Marks will be playing tennis at Bowdoin College, and is most looking forward to "playing for a team and in the dual matches, because tennis is such an individual sport. I am excited to travel to matches and also play lots of doubles." Jeffrey Jorgensen, who accumulated a 90 percent win record against his opponents in the PAL section, will continue his tennis career at Macalester College. Cole Hagerman celebrated his first season of tennis after transferring to M-A, but is not sure yet of where he will be playing next year.
Elley Goldberg will be a coxswain for the Massachusetts Institute of Technology (MIT) rowing next year. Her favorite memory was "earning a bronze medal in the Womens Lwt 4+ our regional championships last year which qualified my boat for youth nationals… having that medal around my neck after 4 years of working was the best feeling in the world." She will be joined at MIT by Emily Rabinovitsj, who is undefeated this season in the lightweight 2x and V4x. Kaitlyn Tonsfeldt will be rowing at the University of Pennsylvania. "My favorite memory is the grand final of the U19 8+ at Club Nationals in Bethel, Ohio. I rowed all summer with the Junior National High Performance Team and it was the biggest win I had ever had at the time," said Tonsfeldt. Emily Steinmetz, who has had victories in the Faultline Faceoff and the Head of the Lagoon, will be rowing at Southern Methodist University. Allie Tappe will row next year at the University of Southern California. This past fall, she placed 9th in the Women's Youth 4+ at Head of the Charles.
Dimitri Sakalia will be playing football at San Jose State University. He is "looking forward to the brotherhood and being able to keep [playing] in the college level." Spencer Corona will be playing football at Chapman College. "My favorite memory of football was going to the state championship with my team during my junior season." Fellow teammate Kilifi Leaaetoa will be playing football at Fresno State University. He is "looking forward to all the competition and all the lifting at Fresno." Ryan Buck, a key member of the bears' offensive line, will play at Redlands University.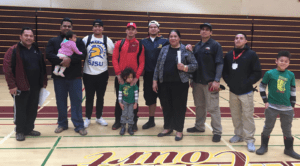 Lauren Heller will be playing volleyball at California Lutheran University. "One memory that I will always hold close to my heart will be going to state in my sophomore year (2015). We didn't win but we played hard. After, we went to Disneyland together. It was such an incredible experience and I loved being there with my team."
Diana Morales will be playing soccer at Santa Clara University. Morales is inspired by "FC Barcelona, because I grew up playing the same exact playing style. Also, they have amazing players that everyone hopes to be." Nic Jandeleit will be playing soccer at Oberlin College. His favorite memory of the sport "was this year in high school soccer against Burlingame. I dribbled past two defenders and shot and scored from the top of the 18 yard box. It was a special moment because it was our senior night and we won the game which was necessary if we wanted to win league." Jake Foster, who will be playing at Occidental, is inspired by his "current teammates on Alpine Strikers 00B red." Josephine Cotto led the league in goals for her 2016-2017 season, played on the Puerto Rican U18 National team, and will be playing next year at the University of Pennsylvania. Jake Simon will play at Trinity University next year. He could've was the team's defensive MVP, making a switch to a center back in the middle of the season and fixing M-A's defensive problems.
Noah Smith will be playing water polo at Harvey Mudd college. "As a goalie, I love watching other goalies play. A few years ago a goalie named Garrett Danner played for UCLA, and he is by far my favorite player to watch. He was considered very small for water polo goalies, just like me, and made up for his lack in size with his quickness and cleverness. Ever since first watching him play four years ago, I've tried to learn from his play style and mimic his technique," says Smith. His fellow teammate Nik Caryotakis, who earned first team all league honors for all of his seasons, will be playing at Stanford next year. Ally Feeley will be playing water polo at the University of Redlands.
Izzi Henig will be swimming at Yale University. Her favorite memory "is probably the summer after my freshman year. It was just me and three other girls, and we still managed to get third at Junior Nationals. Those girls are some of the most amazing people I know."
Annie Payne will be playing lacrosse at Oberlin College next year. "I am most excited to get to know my new teammates. When I visited Oberlin I saw how close the team was and I can't wait to be a part of that!"
James Sullivan will be playing baseball at Oberlin. He is captain for the 2018 M-A season and has a .343 batting average.
Greer Hoyem, 3x PAL South Division Most Valuable Player, and the San Mateo Daily Journal's Girls Basketball Player of the Year in 2017, is currently deciding where she will continue basketball next year.