After coming off its best season in program history with an impressive overall record of 12-3 and going undefeated in league, the M-A varsity football team is looking to repeat as league champs and avenge last year's loss to Paraclete High School in the state championship game.
Even though record-setting running back Jordan Mims and quarterback sensation Aajon Johnson graduated last year, the Bears look bright and full of potential this fall. Coach Adhir Ravipati knows there is talent and potential in this team, acknowledging, "We have a talented football team and a program full of talented players."
Some returning varsity seniors who are ready to raise the bar from last year include quarterback Miles Conrad and defensive end Dimitri Sakalia. Conrad has been working hard on his game individually since the season ended. He said, "Since last year I have mainly been training my arm strength and running ability." Some standout Juniors from last year include defensive tackle and running back Noa Nagalu and middle linebacker Daniel Heimuli, who is looking to have a breakout year in his first full season on varsity.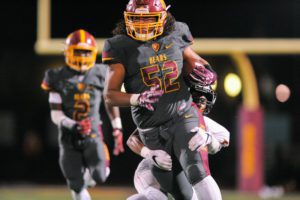 The Bears also added a hard-hitting inside linebacker, Kilifi Leaaetoa, who transferred from King's Academy. He is ready to make an immediate impact and help the Bears to success this season. In addition to adding Leaaetoa, the Bears will be adding exciting talent Troy Franklin, a Freshman wide receiver. With all of these new additions plus returning veterans, the Bears are looking as good if not better than last year's team.
Coach Ravipati is in his third season at the helm of the M-A varsity football team. He is coming off his best season so far and is looking for the team to sustain that success. He added, "Last years seniors did an amazing job setting a foundation of success for us to build on. The next step for us is learning to sustain success and continuing to set the bar higher for us to reach."
Senior Miles Conrad, a three-year varsity player and the current starting quarterback who will replace Johnson from last year is ready to become a leader on this team. Conrad commented, "As a senior and team captain, I have pushed the team harder and emphasized camaraderie amongst us… Most importantly, I want to make sure this year the team is much closer than we have been in the past." Conrad also commented on how the experience has also helped him in many aspects of his game. Conrad said, "I think this being my third year playing, I have much more confidence and knowledge. My understanding of football schemes has improved greatly which translates into the field when I make decisions calling plays and reading defenses."
Throughout the summer and into the first days of school, the Bears have been practicing and getting ready for opening night on Friday. Conrad commented on how the team has been holding up through the strenuous preseason. He said "Pre-season has been really good. We have been practicing all summer long. It's been a long time coming and everybody is ready to play in a game."
As for expectations for this season, the team wants to build off last year both in the classroom and on the field. Ravipati said, "Our goals for this year are an average team GPA of a 3.0, to see our players develop into positive members of their community, and to repeat as PAL, CCS, NorCal champions as well as win state."
There are big things to come for the M-A varsity football team. Come out and cheer on the Bears as they take on Bellarmine on opening night this Friday at Coach Parks Field.