A line formed down El Camino at dusk last Thursday as women waited eagerly to enter the Guild Theater, buy movie popcorn and register to vote. A small and humble poster advertised an independent documentary, "Women Like Us," that delves into the comparison of women in America and Kenya facing hardships and social injustices. This was one of many other screenings organized across America in hopes of empowering women and bringing awareness to gender inequity found in all corners of the globe.
Sally Colon-Petrée, a philanthropist and actress from Chicago best known for her guest starring role on "Friends," is now focusing on "directing films that are bringing awareness to some of the things that are happening in America and just globally as well." The things in America she refers to include teen suicide, depression, sex trafficking, and homelessness as well as other social injustices in Africa including female genital mutilation (FGM), lack of female education, poverty, and HIV/AIDS.
Colon-Petrée started a female-run production company entitled Dream On Productions in honor of her mother's memory "to make creative, educational, and impactful content" that calls people to action in bringing awareness to both the global and local horrors that women face.
Colon-Petrée is part of the Women Like Us Foundation, an organization "promoting gender equality and social justice by funding and volunteering for women-led initiatives." Along with other women from this foundation, Colon-Petrée embarked on a two week trip across Kenya, guided by Linda Rendleman, a passionate philanthropist and author. Their goal was to better understand the unimaginable hardships women in Africa face daily and give back by donating, helping, and interacting with those in need.
The documentarians stopped at several schools, homes, and programs, all created and run by women, to work with suffering children and teen girls. They met with Kim DeWitt, who created the Olmalaika Home to educate and give resources to young Maasai girls at high risk of FGM and childhood marriage. The women also traveled to the N.A. Noel School, established by Nancy Noel, an American artist, to provide education and care for impoverished young children of Rusinga Island, Kenya.
One of their last stops was the home of a young boy and his mother, both suffering from AIDS. The Kenyan mother told stories of selling her body to have sex with local fishermen, desperate to provide a meal for her family. Colon-Petrée acknowledged that it is easy to get overwhelmed, knowing that you are helping one family out of millions struggling with the same problems.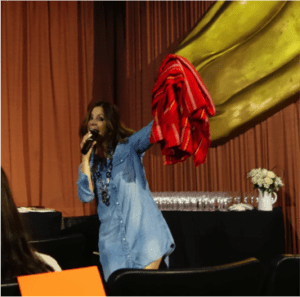 However, it does not take a trip to Kenya to be able to make a difference. Colon-Petrée further emphasized that even an audience of 240 in Menlo Park gathering to watch her documentary, "Women Like US" is another step closer to gender equality and social justice.
The second half of the documentary focuses on problems closer to home, faced by American teens and women. "I was working at the Dream Center at the time, when we got back from Kenya, I thought…. I want to show some of the things that are happening here," Colon-Petrée stated. The Dream Center is a rehabilitative church located in Los Angeles to provide food, shelter, and support to its needy community. Colon-Petrée mainly focuses on the community outreach program, offering food to the homeless and hungry living in Los Angeles, and the residential program, providing physical and emotional care to victims of sex trafficking.
In response to a call for Colon-Petrée's help from the young teenage daughter of a friend, Colon-Petrée and the Women Like Us Foundation also opened up an 8 week mentoring program to help teens struggling with depression and suicide. This portion of the documentary, bringing attention to the problems in America, was not always part of the plan. Colon-Petrée, "had to get it together in two weeks… and I'm so glad I did because it's just the timing of that [suicide] scene right now, it's on point."
The documentary is meant to bring to light the common thread between the females running philanthropic programs in Kenya and those in America, emphasizing the importance of banding together as women to improve our future.
After seeing the documentary, M-A senior Mitra Pezeshki reflected, "We kind of live in a bubble and it's hard to think outside of that, wondering what difference can one person make? But it's times like these when you see everyone join together for one cause and it really makes you feel like you can accomplish something."
Oron Estes, an M-A senior whose mother was part of the group to organize and host the screening in Menlo Park said that "this documentary is a call to action, seeing people in the state of poverty in other countries and in our own, you really want to be able to help and make a difference."
Also in attendance was Anna Eshoo, the U.S. Congresswoman representing the Silicon Valley, she explained, "[What comes to mind is] what women are doing around the world, the burdens that they carry, and women that are helping them so that they lighten their burdens…It takes a lot of courage to have courage, and these stories move all of us."
To learn more about the Women Like Us mission and upcoming projects or to donate to any of the organizations mentioned, click here.
To host a screening or for more information on the film, click here.