After an incredible season of winning CCS and competing in the state championship, the varsity boys' basketball team reflects on one of their most memorable seasons. 
Although the team did not kick off with the strongest start earlier this winter, with devastating losses to smaller schools such as Menlo and Mitty, in early January the team soon started to pick up momentum with an eight game winning streak.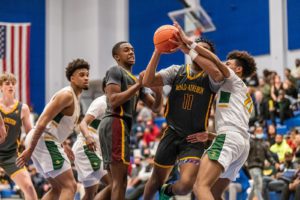 Senior Doug Adams said, "The beginning of the season was rough, our chemistry wasn't together and we couldn't cooperate, but over time we all realized we had the same goal and once we did our chemistry skyrocketed."
On the Bears' senior night and last game before PAL (Peninsula Athletic League), they finished with a final score of 60-41 against Woodside. The 6th Man had higher energy than ever before, holding posters and even rushing the court when Senior Ishaan Mishra scored the final point to seal the game.  
Mishra said, "The highlight of the game was definitely the student section going wild as hell for the last shot of the game, and everyone running onto the court was insane." However, the flooding of students to the court occurred as the game was still happening  lead to a CCS violation and M-A had to forfeit its right to host the CSS title game.  
The Bears then traveled to Salinas to compete in the Central Coast Sectionals (CCS) for the Division I title against Alvarez. While in the first half Alvarez was up 28-19, the Bears made a comeback in the second half to win the championship game with a close score of 64-60. 
Junior Johno Price said, "The highlight of my season was winning CCS in a hostile environment. It was a great feeling." 
There's no doubt the team's connection and love for one another went beyond the court. Adams said, "We did well this year because we were a group of guys dedicated to doing whatever we had to do to win. I love my guys, and I couldn't have done any of it without them."
He added how he is "just beyond grateful to be able to call myself a CCS DI Champion."