This year, the District started a new food service program to comply with the California Universal Meals Program (Universal Meals). The changes include a limit of only one free meal per mealtime for each student, new consoles/sales systems, added benefits for students eligible for free or reduced lunch, and healthier meals. While the Universal Meals Program was put into effect this year, M-A has been offering free food to all students since last year because of the pandemic. 
State regulations now require students to enter their student IDs into a new point of sales (POS) systems when getting a meal in order to track food statistics. M-A also uses these consoles to limit students to one free meal per mealtime to stop some students from getting seconds and limiting other students' choices, a common issue last year. 
Students who are still hungry this year can pay for extra food and snacks, such as chips and drinks through M-A's new A La Carte menu. Parents load money into their student's accounts on www.myschoolbucks.com, and then during lunch, students can buy more items from the menu. Maria Vilchez, M-A's head of food services said, "Many students just don't know that the A La Carte menu exists, but we have been trying to let them know by putting up signs and telling students when they get their food." 
Currently, free or reduced lunch status does not cover the A La Carte menu, however M-A's lunch staff has plans to change this. "We know who is eligible for free or reduced lunch though our system, but we are waiting for the District approval to begin applying for this status on the A La carte menu," Vilchez said.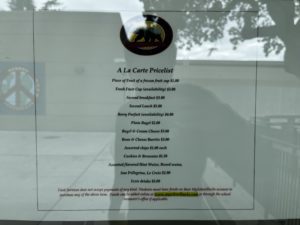 The new consoles have come with their own problems. Administrative Vice Principal Nicholas Muys said, "Looking at the lines, it takes on average 10-15 minutes for the students to get served, which is obviously longer than we want. We want it to be 10 minutes or less."
Muys added, "In the first week of school, there was a lack of POS systems. Sometimes, the system keypads didn't work. Recently, there have been issues concerning loading times and network connections with the software itself, creating longer lines and wait times."
M-A has plans to reduce wait time. Muys said, "The system is getting better. We now have enough POS systems that we don't have to double up the keypads onto one console. Network speeds are increasing, and now all seven counters in the G-wing and K-wing are open." 
The lunch staff has also adapted to speed up the process, with some of them standing at the beginning of the line and having students enter their ID numbers there. 
M-A has also been making the menu healthier and more varied. Students get more choices of fruit this year, such as watermelon and plums. Veggie pizza is a new addition to this year's lunches, compared to last year when the only available pizza options were cheese and pepperoni. Muys said, "The District has expanded its menu, adding healthier options and creating one main entrée option for each meal."
In the 2021-22 school year, there was a reduction in applications among eligible M-A students for free or reduced lunch, likely because M-A offered free lunch for all students. This year, however, free or reduced lunch provides additional benefits encouraging more students to apply, like the SamTrans Youth Unlimited pass, which provides free bus fares. While there has been a slight increase in the number of applicants, it has not returned to pre-COVID numbers.
As for other improvements, strict supervision of the lunch line by members of school administration seems to be helping resolve last year's issue of students cutting in line. 
Muys added, "Students cutting the line is less prevalent this year than in past years. Students know that the lines go slower for everyone when people cut in line, so I'm optimistic that this trend continues."