In the world of high school sports, certain teams often attract the attention. Tickets sell out for football games, students flock to the gym to watch their basketball team take on a rival school, cheers follow star soccer players as they chase victory. Meanwhile, one of the most dedicated teams on campus works quietly in the background, spending hours every day to improve themselves. The wrestling team at M-A is tireless, yet most people have never seen a match, or never thought about the fact that young women at M-A care about wrestling. In fact, M-A has a full roster of passionate girls who hold wrestling as one of the most important pieces of their lives. To many, this sport has been nothing short of life-changing.
Lauren McDonnell is a sophomore at M-A and a second-year wrestler, and this year she has taken on the responsibility of being the girls' team captain. Since going to her first preseason weight-lifting workout in freshman year, McDonnell has loved the community that wrestling, particularly girls' wrestling, provides. McDonnell's first experience with sports was in elementary school, during which she tried sports of all kinds, including soccer, basketball, and softball. Competition has always been part of McDonnell's life, but before high school, she never imagined that she would be fighting for success in quite the way she does now.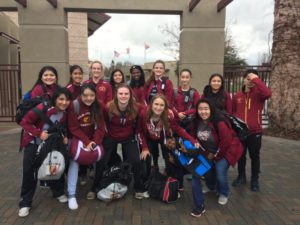 McDonnell credits M-A's wrestling Coach Phillip Hoang with part of her love of the sport, for his coaching style which immediately made her feel at home in an athletic world which was previously unknown to her. After her club soccer team started to fall apart, she turned to wrestling as a way to stay in shape and hopefully get stronger. What she found was a program of strategy and grueling workouts that tested her both physically and mentally. The physical aspect alone is enough to deter many potential wrestlers, but what drew McDonnell to the team were the other members, girls who McDonnell now calls her best friends.
By sophomore year, McDonnell realized that she wanted to be as involved with the wrestling team as possible, and challenged herself to become team captain. Before she earned the title, she had to complete a series of physical challenges that pushed her to her limits. These included a mile of 75-pound weighted lunges and a speech to her team about the qualities that make her the natural leader of the team.
No part of wrestling is easy, but McDonnell and her fellow wrestlers still recognize that women's wrestling has never been particularly valued. When asked if she knew any professional female wrestlers or watched the sport, McDonnell answered, "Other than the Olympics, it's like, would I ever watch wrestling if I wasn't a wrestler? Girls' wrestling, especially? No, I wouldn't, just because no one really watches women's wrestling."
This lack of appreciation for such a unique sport is undeniable, and M-A's female wrestlers know that there is a long way to go before they are recognized as widely as their male counterparts.
When wrestling is covered in the news, in magazines, on television, and here at M-A, often the attention is given to male wrestlers. This sport is traditionally male-dominated and the ideals of the sport have masculine connotations- the strongest, most muscular athletes are often viewed as the most successful. The truth is that the M-A girls' wrestling team includes some of the strongest athletes on campus. Senior Chelsea Wilson, one of M-A's star wrestlers, remembers being the only girl on the team after seeing her brother compete. "I first saw it when my brother did it, and I wasn't interested at all, and then I think the day before the season started I was, like, messing around with my brother because we did judo together, and he said 'You should try wrestling!'" said Wilson.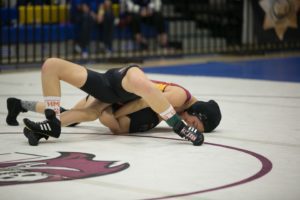 It was hard at times for Wilson to learn such an unfamiliar sport as the only girl, but she was never afraid to make mistakes as she pushed herself to improve. She added with a laugh, "There's like, I don't know what you call it, but some sort of good feeling when you've ended a tough workout and you're just sitting there like I just did that. It's like, I don't know, physically it feels good, too. Because you're just exhausted, but your body is happy with itself."
Two years later, M-A's team has grown to 23 girls. Both McDonnell and Wilson love the fact that their team is completely united and is truly a group of best friends. This closeness is something you can't find on the boys' team at M-A, and when asked if the programs differ, McDonnell replied, "Oh yeah, definitely. The boys' team is super competitive, and they like, they're cocky.We're all friends with each other. They are friends, but we're all, like, best friends. We enjoy each other's company, they enjoy wrestling with each other."
Perhaps this difference highlights a fundamental divide between men's and women's sports, the fact that girls who have pushed themselves to become stronger than ever are still paid less attention than boys who play the same sport at the same level. Despite hours of work, early mornings, and days spent at tournaments, McDonnell added, "I think men's wrestling is more highly valued because it's like 'Oh, men being competitive' and I think girls wrestling isn't really known, it's like oh, girls wrestle? When I tell people I wrestle, they're like 'You go girl!' and I'm like '…thank you, but…' Yeah, it's definitely unexpected, in a way. People don't really expect girls to wrestle."
Sophomore Evelyn Calhoon is another avid wrestler who is proud of her sport but realizes that not everyone embraces wrestling as the accomplishment that it is, and certainly not as an activity that a young woman should participate in. Although there are dozens of female wrestlers at M-A and local schools, yet very few schools have complete girls wrestling teams. The majority of students at M-A have ever seen the varsity girls team wrestle, and many are unaware this team exists at all.
This misunderstanding of their sport affects M-A's female wrestlers, although it never keeps them from working hard. It does, however, mean that reactions to girls wrestling are not always positive. "Oh, yes, my grandma didn't want me to do it. My grandma told me that girls shouldn't wrestle," said McDonnell.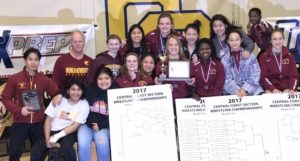 McDonnell is proud of being a wrestler, but she knows that as much as her sport gives her a special kind of honor and has made her a stronger person, it is not always easy to share her passion for wrestling with her peers. Much like her grandmother, many people do not understand the nuances of girls wrestling, and she added, "I think half the people think it's really cool, and then another half of the people think it's really weird. And then you add that you're girls on top of that, and then they think it's extra weird. My classmates haven't outwardly really reacted to me. But yeah, a ton of people always ask me how wrestling is going, because they just think it's funny that I do wrestling."
Before the 2017 season, the team took a bonding trip together, and Calhoon remembers a moment when they were hiking that took her aback and made her realize how unique being a female wrestler is, and how unexpected this news is to the average person. Calhoon and her teammates passed another group of hikers, adults, and "they were like 'Oh, what group are you guys?' and we said we were wrestlers and they would stand off to the side, after that they would be like 'Oh…' In a way, it's cool, because you get this badge of honor being a female wrestler," said Calhoon.
This sentiment is the purest expression of what wrestling means to M-A's team, especially to McDonnell, Wilson, and others who for whom wrestling has become a lifestyle. Wrestling has caused them to experience aspects of gender inequality that are complicated and frustrating, but have given them an unapologetic sense of self. In the end, the confused looks and apprehension that they endure are overpowered by the knowledge that they have found a community, surrounded by like-minded people who recognize that they need never feel ashamed of something that makes them better people every day.