Cover photo credit: Stephanie Sheridan.
On Monday night, the former principal of Columbine High School spoke to the local community at Hillview Middle School. Frank DeAngelis shared about his experience leading his school during the Columbine shooting in 1999, and his thoughts on how our culture has moved forward and can continue to progress to keep our students safe. While the shooting will affect DeAngelis for the rest of his life, he is hopeful and has dedicated the rest of his career to spreading awareness and supporting communities that have been through similar events.
While the M-A community has been fortunate never to experience such tragedy, students did experience a lockdown drill last spring that left many frightened. Even a small reminder of the danger that students at Columbine and elsewhere faced made M-A staff and students aware of the need to be prepared at all times.
DeAngelis has travelled the country working to make countless school communities more prepared, in the hopes that no one goes through what he did twenty years ago. He helped the Parkland community begin to rebuild after a deadly shooting shocked the nation last February. One of the first things he said was that Columbine High School, and the surrounding town of Littleton, Colorado, "did not feel like a place where this [violence] would happen."
However, on the morning of April 20, 1999, it did happen. "I ran out of my office, and my worst nightmare became a reality," DeAngelis noted. He was down the hall from one of two shooters, but despite his terror, he immediately ran to help students who were in danger. When confronted with the locked gymnasium door, DeAngelis said, he grabbed his set of 35 keys "and the first one I pulled out unlocked the door. I just looked up and said, thank you."
This is a terrifying recollection, but things have changed for the better— "before Columbine, the only drills we had were fire drills," DeAngelis said. Now schools across the country regularly practice lockdown and shelter in place drills, floor plans are accessible to authorities during rescue operations, and many schools have classrooms that can lock from the inside.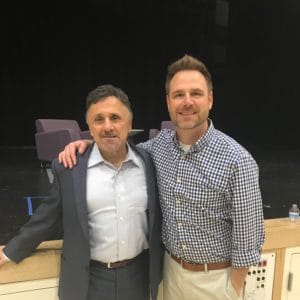 One of the best ways to make sure the community is safe is to have conversations, according to DeAngelis and Menlo Park City School District Superintendent Erik Burmeister. To parents who are worried that broaching the subject will frighten young kids, Burmeister suggested talking in general terms, and DeAngelis added, "It's not about making someone paranoid. It's about knowing what to do."
Burmeister noted that he debated whether bringing this painful, weighty topic to the community would be wise, but explained, "Our planning team thought hearing from 'Mr. D,' as he is known in the Columbine community, would show a human side to the toll school violence plays in our society. His message is also a message of hope and resilience, something of which we can never get enough. It's rare that we can have such an honest and intimate conversation with someone who has lived through a significant moment in history; we felt our community would be interested and benefit from the opportunity."
Protecting and remaining aware of students' mental health is also important in order to keep everyone at a school healthy and safe. DeAngelis said, "If you live in a community where they're considering cutting mental health, you need to stand up and say, that is not the place to cut." M-A is lucky to have several support systems for students, including Star Vista counseling.
The best advice DeAngelis can give to educators, students, and community members alike is, "If you see something, say something."
Click here to visit the San Mateo County Sheriff Office anonymous tip line, or call (800) 547-2700.