Written and Photographed by Jackson Williams
The Boys Water Polo team took on Clovis West in the first game of a weekend-long tournament and lost 7-8. With a 1 pm start time, students from all grades flood the stands and spend their lunch to cheer on their fellow Bears as they face off against the Golden Eagles.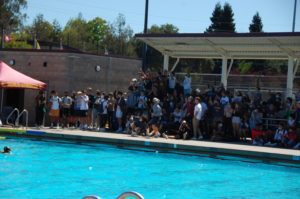 While generally, water polo is not a sport that attracts huge M-A crowds, the unexpected energy from the stands fueled the Bears from the start. With teachers, parents, and students behind them, the Bears came out strong as they took a 1-0 lead within the first couple of minutes. The student section was daunting the Golden Eagles with chants such as "You can't guard him" and "Where is Clovis?" Senior goalie, Jake Taylor showed some love to the student section and said, "I think the student section really intimidates the opposing team, and it allows us to get hyped." Clovis responded with a goal to tie the score at the end of the first quarter. Despite the goal, Taylor made many impressive saves in goal throughout the first half. Neither team seemed to make much headway, however, when Senior Miles Scherer scored one of the seven M-A goals, the crowd erupted. When the buzzer rang for halftime, M-A had pulled ahead with a score of 5-3.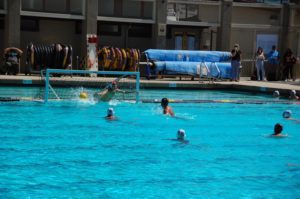 While the Bears kicked off the second half with a substantial lead, Clovis started off with a goal to make it 5-4 early in the third quarter. Clovis continued to apply high pressure as they tied the game up 6-6 at the end of the third quarter. The Eagles scored four goals putting them in the lead 8-6 with 1:40 left on the clock. At this point, the students were off to class, and M-A's confidence started to fall as the time was ticking down. The Clovis goals rattled the Bears, causing them to hold each other accountable for their mistakes. Taylor mentioned, "We need to not argue in the middle of a game and just stay focused and know that everyone's trying their hardest." He continued to explain," we're a team, and this is a team sport, so if an individual player plays badly, there's no need to get on him like everyone could be responsible." In the last seconds of the game, M-A pounded a goal with 0:06 left in the fourth quarter. Clovis managed to scrape the win 8-7, a heartbreaking loss for the Bears. 
Despite the first game loss, the Bears would go on to win the next three games of the weekend against Rio Americano, Davis, and Vista.