Written by Maxine Moss and Emilie Mueller. Photo credit: Lauren Lanahan.
Although football season is well over, many of the players can still be found practicing on the field each day. That's because M-A has introduced its first-ever competitive rugby teams. A boys JV and varsity team, composed largely of M-A football players, as well a girls varsity team, are playing in games this winter season.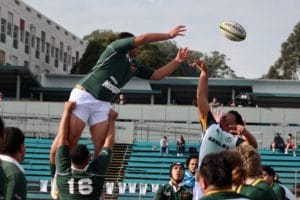 Coach Shaun Paga, who led the effort to establish the teams, explained, "I have always wanted to start a rugby team at M-A and tried to start one as a student 25 years ago. When [my family was] moving back from New Zealand last year, Coach Adhir [Ravipati] mentioned the desire to start a rugby team on campus, and a team of people have been working to make this idea a reality of the past few months."
Their efforts were successful—M-A secured "a great coaching staff of over a dozen coaches, including four former U.S. national team players and three former college rugby coaches," said Paga. "We are going to field multiple teams so there will be an opportunity for everyone to play, and there is going to be an emphasis on working hard but also having fun."
Although some of the players have minimal rugby experience, Paga said that football skills translate well to rugby. According to him, "many of the top U.S. rugby players are cross-over athletes from many sports including football. Rugby is also a great sport for developing skills that can improve your football game, like tackling, fitness and mental toughness."
Sophomore player Mateo De La Cruz, for instance, decided to try out because he had "been playing football and the coaches told [him] I could be a really good [rugby] player."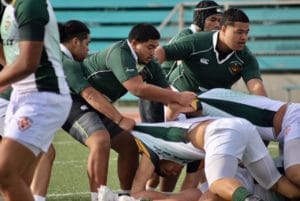 Other players, like Jaeden Barker, have been playing rugby for many years. "I played ruby in fifth grade all the way through eighth grade," Barker said. He is looking forward to "getting dubs and playing as a team" this season.
Rugby is a rapidly growing sport at the moment, so there is ample competition for the Bears. Paga said, "There are a number of rugby programs in the Bay Area and Sacramento that we will be playing, including the defending National Champions, Danville, in January."
In future years the team hopes to travel to play against more competitive opponents. Paga even mentioned the possibility of travelling internationally "to play some of the top high school programs in the world."
For information on the teams and schedules visit the M-A rugby website.