After 13 years, the Big Bear Run has "run its course," a decision that was made after last year's fundraiser actually lost money due to low levels of participation. "It wasn't resonating with teams and coaches," said booster president John Briggs, "and we can't afford to lose money on that."
Participation levels had dropped 35% in the last 3 years. Briggs speculated that it could be due to the wider-publicized Schoolhouse Rocks 5k, which is a fundraiser for the Menlo Park City School District (MPCSD) and will occur this Sunday, May 19. 
Jackson Gosler, the fastest M-A student in the 2018 Big Bear Run, was "bummed when I heard that the Big Bear Run was cancelled because last year, it was fun to race with my teammates. I was looking forward to it again this year." Gosler was even hoping to use this year's run to "transition from track into cross country. I was planning to use it to gauge how well I could perform at the longer distances of cross country before starting summer training."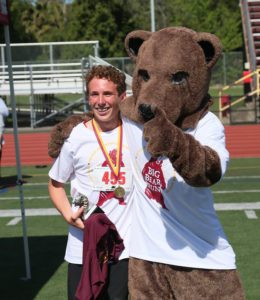 "The Big Bear Run brought so much of the M-A community together. I think it's sad to lose the tradition," said senior Oron Estes. Estes designed the t-shirt for the past two years.
Briggs and the Athletic Directors plan to determine a new fundraiser "based on seeing what works for other nearby high schools."