More than halfway through the in-person school year, many students remember distance learning as a distant fever dream. And although M-A students and staff have largely celebrated the return to in-person learning this year, there are still aspects of distance-learning that students miss from their year online.
168 students answered a survey about what they missed from distance learning. Here are the results.
When asked what their favorite aspects of distance learning were, 83.9% of students said its flexibility, 69% of students said later start times, and 47.6% of students said asynchronous Wednesdays, with not needing to get dressed (47.6%) and a lighter workload (41.3%) as noteworthy responses as well.

One student said, "I liked having some asynchronous days because I had a lot of flexibility and freedom to complete my work whenever I wanted to."
On a scale of 1 to 5 (1 preferring paper assignments and 5 preferring online assignments) almost twice the number of students preferred online assignments to paper ones. The ability to collaborate, the accessibility, and the overall editing flexibility of online assignments makes it popular among both students and teachers. 81.3% of students said that their teachers are assigning more online assignments after distance learning than they had before.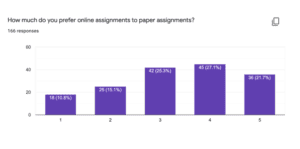 Many believe that there are other aspects of distance learning that should be incorporated into current in-person learning. The majority of responses stated they would like to have later start times, an asynchronous day, or more block days. 
If they were able to incorporate any one aspect of distance-learning, the largest majority of students at 23% would want asynchronous Wednesdays.
The online-learning schedule was very popular. Students said "We should have block weeks!" and "We should get days that start later and have shorter classes." One student said, "later start times allowed me to get more sleep and be more prepared for school." Specifically, 18% of students said later start times were the best part of distance-learning.
The flexibility of distance-learning was something students wanted to incorporate in current learning for several reasons. As one student said,"Letting students work at their own pace and go ahead was nice, especially if they were bored with class materials."
Many also liked the decrease in workload over distance learning. One student explained that "when students don't do work it's not because they are lazy, but because the school system is draining and unmotivating. The school system should be more aware of student's mental health; the schedule change was so helpful for online learning."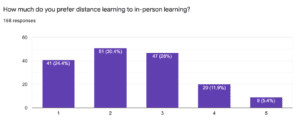 However, students still clearly favor in-person learning to distance-learning. 86.3% of students said that they learn better in-person, but prefer certain aspects of the distance learning model.
One student said that the only takeaway from distance learning was that "it should be our last option."