The Menlo Park City School District's (MPCSD) Spanish Immersion Program began eleven years ago with the goal of immersing young elementary school students in the Spanish language and in a multitude of Spanish-speaking cultures. Now, M-A students who graduated from the immersion program feel that their five years there helped them form lasting relationships, and gave them the ability to communicate with a completely different group of people.
Sophomore Matthew Philbin, who was a part of the second year of the Spanish immersion, spoke about how the program has helped him outside of school. "I am definitely able to communicate with a lot more people." He added, "You always see those cheesy posters in teachers' rooms about how having another language is like having another life. But, you know, it's totally true." 
Junior Aurelia Gemmet-Young said the program was "one of the best things that education has done for me." She felt that the program allowed her to reach and understand a wider group of people. "Because I can speak another language, I can talk and communicate with a whole other bunch of the world." 
Language immersion programs are aimed at teaching students to be bilingual by introducing a variety of topics in both languages. In the MPCSD program, kindergarten classes are taught almost exclusively in Spanish. As the students move up through elementary school, English is slowly added to the curriculum until fifth grade, when there is a fifty-fifty split between Spanish and English and the students can speak and are learning in both languages.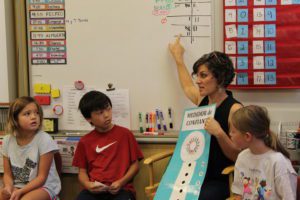 Sophomore Natalie Jones, explained "I felt it took longer to learn how to read and do math in English than it would have in a standard class in English" She stressed that the combination of learning English and other subjects at the same time meant it "definitely took longer than a lot of other people to get the hang of doing it in Spanish." 
While the program pushes kids to speak only in Spanish, sophomore Katriona Briggs expressed that the emphasis on Spanish caused her some difficulty when learning other subjects in English. She said one of her main struggles was in math. "I did advanced math and that was the first year it was in English. And I knew how to do it in Spanish but I had to relearn how to do it in English. That was the hardest part." 
Community interest drove Tami Girsky, the coordinator of Spanish Immersion and World language, to start the program back in 2008. She said that her goal in creating the program was to "really allow kids the opportunity to develop both of their languages, Spanish and English, and to put them in a multicultural environment that would help them learn to appreciate and recognize other cultures." 
Overall, the opinions of students were overwhelmingly positive. Some students, like junior Mateo Sabio, wished that more people were able to take advantage of the program. "I wish the Spanish Immersion program was more out there." he said "And I feel like it should teach more than Spanish. Our school may be too small for that, but it would be cool if they offered other languages like French or something."
Since its establishment, the program has expanded and developed to meet the needs of the district. The pilot program in 2008 had one kindergarten class, but the large amount of interest in the program led to the addition of three more classes, each now capped at 24 students. "I think we're better at managing the program." says Girsky "We try to get the kids to speak only Spanish. All the classes – math, reading, history – its all done in Spanish."
Teachers are the ones who interact the most with the students and develop both their Spanish and English speaking skills. Esme Collier, a third-grade teacher who had been teaching in the Spanish Immersion program for 10 years, explained that the program "has an added layer of reward, knowing that you are promoting additive bilingualism and contributing to possible cross-community communication and problem-solving in the future." She described that "it is quite a lot of work, as immersion teachers often have to search for, create, and translate materials to use in their lessons."
Spanish immersion teachers need to have an array of qualifications and credentials. In addition to their teaching degrees, applicants need to have a Multiple Subjects Teaching Credential and a Bilingual Authorization, also known as a Bilingual, Cross-Cultural, Language and Academic Development (BCLAD) authorization in Spanish. To acquire a Multiple Subjects Teaching Credential, applicants have to pass the appropriate exam for the subjects they will teach, as well as a Reading Instruction Competence Assessment.
Many students feel that the program expanded their understanding of the Spanish language and culture. Others expressed their feelings that the program created a tight-knit community that they still feel connected to today.  Jones said "It definitely gave me a lot better of an understanding about the language and all the surrounding cultures. I have the ability to travel and understand the people there, and that's pretty cool."
Briggs emphasized the way the program developed a close community and helped her form bonds with others that she is still friends with. "Everybody was super close and I am still good friends with quite a few people because we have that bond. And being in immersion is completely different than being a regular elementary school kid because you're learning everything differently. So we all have this shared experience and we can relate to each other through that."
Girsky said she recently talked to eighth-graders who were a part of the immersion program, that are now in a high-level Spanish class at Hillview Middle School. "I asked them what their favorite class was," Girsky remarked, "and they told me that it was Spanish because when they walk in, all of their friends are there and they feel like they are coming home."