This is the 30th article in Bears Doing Big Things, a weekly column celebrating the stories of notable M-A alumni. Read last week's article here.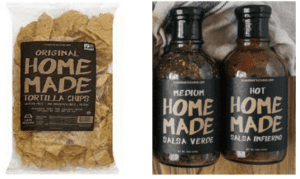 Walk into any Safeway, Whole Foods, Draeger's Market, Sports Basement, or natural grocery store near you, and chances are the snack aisle will stock M-A alum Arnoldo Elisea's delicious "Homemade" tortilla chips and salsas.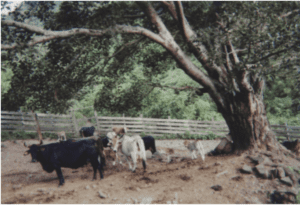 Elisea grew up in rural Mexico on a cattle ranch, about eight hours away from the nearest town. He is the tenth of eleven siblings, and was the first member of his family to attend college. His parents never went to school at all. He moved to the U.S. without his parents at age 15 to attend M-A, beginning his sophomore year in M-A's English as a Second Language (ESL) program. 
Throughout high school, Elisea took night courses at Foothill Community College on top of a full course load at M-A so he could learn English and earn enough credits to be eligible for college. He graduated from Cal Poly San Luis Obispo, and started the homemade chips and salsa company Sabor Mexicano. Now, Elisea is a consultant helping food companies improve the sustainability of their products, and is also working on a project supporting women-owned small businesses in Mexico.
Growing up in Mexico, Elisea's father was a cattleman, and his mother grew crops in the fields and helped out on their ranch. "I come from a very traditional family," Elisea said. "The culture where we lived was to work hard, buy land, buy cows, grow crops, and have kids to help take care of the land and continue the tradition."
"Even though my parents had spent their whole lives on our ranch and never went to school, they always wanted us to continue learning about the world," he remembered. "They passed down the knowledge they had learned from their parents and grandparents, teaching us to respect Mother Earth, the importance of sustainable farming practices, and about nature in terms of the four seasons. Every time the seasons changed, that was a teaching moment."
"I was always the right hand on the ranch," he continued. "I was the calculator for my parents. Whenever we sold animals or crops like corn, tomato, cucumbers, and beans, my job was to calculate the cost of each item by their weight in Kilograms. That was where my passion for math began."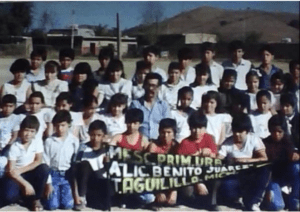 In addition to helping out as a ranch hand, Elisea attended primaría, or elementary school, on a nearby ranch. There, students from all different grades learned together in one room with one teacher. However, once he was old enough for secundaría, which began in tenth grade, there were no more educational opportunities nearby.
"My parents saw the importance of education. They both had always wanted to go to school, but didn't have the opportunity," Elisea explained. "When I was old enough for high school, they decided to send me to the U.S. to live with one of my older sisters in East Palo Alto and continue my education." He and many of his siblings have birthright U.S. citizenship because their parents traveled in the U.S. for several months of each year through different agricultural programs during the years when they were having children.
"My parents always saw our potential," Elisea continued. "Even though there were 11 of us, they emphasized that each one of us was unique and special in our own way. I have always had a lot of love and support from my family."
In 1994, Elisea arrived in the U.S. and enrolled at M-A. "I wasn't really afraid of not knowing any English because I was pretty comfortable taking on new challenges and speaking with others," he remembered. "I was most sad about the separation aspect—knowing that I was not there to continue supporting my parents on the ranch and helping them with small things like math, writing and reading."
Elisea's first experience at M-A was the ESL program, where he spent his first few months. "In ESL, there were many students from Mexico, Central and South America, and all of us were learning English for the first time," he remembered. "It made sense for us to be there because it was in everyone's comfort zone, but I also wanted to get out of my comfort zone. I wanted to learn English fast and meet new people in different classes, because I saw that my parents had worked so hard and sacrificed so much that I wanted to take full advantage of the opportunity and not waste time."
"Although I didn't know much English yet, I knew numbers," Elisea continued. "I chose to go to summer school to take Algebra II because I was behind on my algebra and I wanted to take Precalculus." He also attended night school at Foothill Community College to learn English throughout his sophomore and junior years.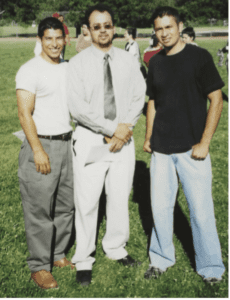 "I had some amazing teachers who recognized that I had a lot of potential, but also that I needed some discipline and structure," he remembered. "Mr. Rodriguez, my science teacher, was a great mentor and role model—someone that I always looked up to. I am also extremely grateful to Alice Kleeman, a substitute teacher who helped out in my ESL class, and then became my college advisor. Them two really helped and supported me through those bumpy years as a young person when I could have easily gotten lost."
When he came as a sophomore, Elisea's intentions were to finish high school and return to Mexico with his parents. However, as the years went by, his goals shifted. "I started feeling more comfortable, learning the language, doing well at school, playing sports, and making friends, and realized that I might want to stay in the U.S. to continue my studying," he explained.
Elisea played on the M-A soccer team his last three years of high school. He remembered, "On the soccer team, we bonded really well and created a great team. Soccer allowed me to want to make friends outside the ESL group, and pushed me to practice speaking English. I learned important life skills from soccer like how to collaborate and work on a team."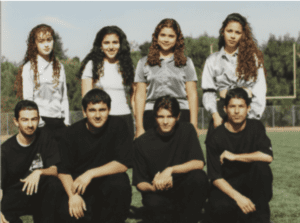 He was also part of the Latinos Unidos de M-A (LUMA) club, which he said was "a great way to collaborate with other students to put together events and accomplish things for the school," and worked a job serving food and helping with afternoon activities at Glenwood retirement home in Menlo Park. 
After graduating from M-A, Elisea attended Cal Poly San Luis Obispo, which he remembered was "a great blessing, and was definitely thanks to the support of the amazing teachers and programs which helped me throughout high school."
"In college, I always felt that I needed to work harder than others to keep up," he said. "My first quarter at Cal Poly, my roommate and I were taking the same chemistry course. I remember coming to the dorm and studying like there was no tomorrow, while my roommate was constantly playing video games. And then, we would take the test and I would have a C and he would have an A."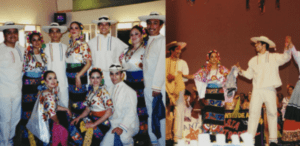 However, Elisea's roommate ended up being expelled from the university. "He was very smart, but not disciplined," Elisea explained. "I don't consider myself to be particularly intelligent, but I have always approached things through discipline, thinking that knowledge and understanding comes through hard work."
"Discipline is a value that my family—especially my dad—always instilled in me," he continued. "When I was little, I wanted to be a cowboy like him. I'd always tell him, 'Teach me how to throw the rope on the cows! Teach me how to do all these things!' and he'd be like, 'You have to do it the right way.' There was always a process. A lot of times when I was young, I wanted to run, but I needed to walk first, and my dad helped me understand that."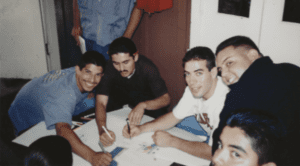 Elisea started out studying Electrical Engineering, but during his junior year, decided to switch to Information Technology (IT). "I realized that I really enjoy math and science, but I also have this personality aspect that I felt that I was neglecting with my engineering degree," he explained. "So, I ended up doing IT, which was a combination of engineering and business, and that felt more like myself."
"Because I grew up on a farm and ranch, I started paying attention to the organic food movement and thinking about the food industry," he said. "Whole Foods Market was a big proponent of organic farming back in the early 2000s and I remember studying that in one of my classes in college," he said. "I really started respecting what Whole Foods was doing, and decided that I wanted to go work for them after I graduated from college."
Elisea worked as a Store Team Leader and in the Regional Office at Whole Foods for 12 years, where he learned about food retail, transparency, and sustainability. In 2011, he teamed up with his friend Jorge Saldano and his nephews to found Sabor Mexicano, a natural, organic chips and salsa company focusing on clean, simple ingredients. Elisea and Saldano scaled Sabor Mexicano from a local brand to a national brand, and their chips are now widely available in supermarkets across the country.
Elisea also works as a consultant helping transition conventional brands to being more natural and environmentally friendly, guiding them on how to use more non-GMO and organic ingredients. He is currently working with Calbee, a snack food and cereal company, and KiGourmet, a gourmet Mexican salsa company.
Additionally, Elisea is working on a project helping Mexican woman-owned businesses that are using sustainable farming practices find opportunities at food retail companies like Whole Foods and Sprouts Farmers Market in the U.S. "In Mexico, it's very difficult to get support if you are a small business—especially if you are a women-owned small business—so we are looking for a way to change that," he explained.
Elisea's advice to current M-A students: Take self-responsibility for your actions. We all have a past, we all have a story, and, of course, our paths and our story shape in some ways who we are, but we also have the self-responsibility to create our own future. A little story that my mom and my dad used to share with us on the ranch is: think of yourself as water. When you're working right next to the river, water doesn't have much meaning because there's so much water around you. But if you're at the top of the mountain and it's 100 degrees out there, now, water has so much value for you. So, you have to be like water in the top of the mountain, and put yourself in situations or look for opportunities where the people around you value you for who you are, what you know and what you can contribute such as being bilingual.
Also, to students who are learning English as their second language: if you experience any sort of discrimination because of your language or accent, don't let it get to you. I always just ignored that stuff. If you are learning a second language, be proud of it. Speaking more than one language is something to be respected and to be proud of. The U.S. has many opportunities to offer, but it's also important to not let go of your past. Be proud of who you are, of your culture and identity. Don't lose the essence of your culture, your family, and your traditions. Having an accent, it shows others that you speak more than one language, so be proud.
On his favorite books, Elisea said, "My all-time favorite book, which I recommend to all teens and young people, is The Alchemist by Paolo Coelho, which is a novel basically about finding purpose in life. That was such an instrumental book for me. I've read it three times and it is always in my mind. It reminded me of the importance of constantly evolving and discovering yourself."
"In the end, I feel like things have kind of come full circle for me," he reflected. "It all started at my ranch, where my parents taught me about agriculture and sustainable farming, and throughout the years, I have been able to continue that in different shapes and forms."
Header image: Elisea working with a family-owned local farm in Queretaro, Mexico.
Disclaimer: Bears Doing Big Things is not meant to be a list ranking the most accomplished or famous M-A graduates on Earth. It is a collection of people with a wide range of expertise, opinions, and stages of life who were kindly willing to share their stories. As Maria Popova once wrote, "There are infinitely many kinds of beautiful lives." There are 45,000+ additional accomplished M-A alums out there, so keep an eye out for them!