This is the nineteenth article in Bears Doing Big Things, a weekly column celebrating the stories of notable M-A alumni. Read last week's article here.
"César Chávez was a powerful, persuasive speaker, labor leader, charismatic hero; American-born farm worker of Mexican descent; the Mexican Martin Luther King; America's Gandhi … History must deal with how much of our heroes' imperfections we record and how much we erase. I write of the light and shadows of the man to remind us that 'charismatic' and 'saintly' are expensive words … Surely knowing more about our past leaders can teach us how to raise, discover, or train leaders for the present and the future (and maybe forgive them their trespasses)."
         — Introduction, Fields of Courage: Remembering César Chávez and the People Whose Labor Feeds Us by Susan Samuels Drake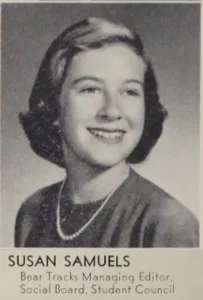 Susan Samuels Drake was a member of the first graduating class to attend M-A for four years after the school's founding in 1951. She went on to work as a secretary for César Chávez during the farm workers' movement, start her own business, and write and publish several books. These include Fields of Courage, a poetic memoir in which she reflects on her 31-year-long friendship with Chávez and on the formation of the United Farm Workers labor union, and Wandering Amazed, a collection of haiku-style poems about nature.
In high school, Drake was the managing editor of Bear Tracks, M-A's previous print newspaper. She remembered, "I took journalism all four years, which was a very positive experience. My journalism teacher Doug Murray and I became lifelong friends. I also wrote a weekly column about what was going on around campus for the Palo Alto Times during my junior and senior years."
When Drake attended M-A, the school was much smaller than it is today. "We had around 300 kids in our class, so about 1200 students total," she said. "I think one of the main differences between then and now is the racial diversity. Back then, the student population was predominantly white. We had maybe five Black students in our class, and few Hispanic students." M-A diversified following the integration of East Palo Alto in the 1960s, and now serves over 2,400 students. 
"I was of the generation where women were encouraged to prioritize finding a husband—getting a 'Mrs.'—over starting a career," Drake said. She remembered, "When I was young, I wanted to be a wife, a mother, a writer, and a secretary, because I liked working as a little girl helping my dad in his office. I always kept a journal, starting in about fifth grade, but becoming a wife and mother were most important to me when I was growing up. However, I didn't end up doing nearly as well at those things as I did at being a writer and a secretary."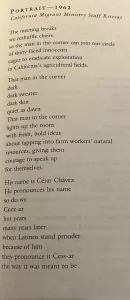 After graduating from M-A, Drake attended Occidental College in Eagle Rock, CA. She dropped out of college after three years to get married, but later continued her higher education by taking English and poetry courses at community colleges.
"My husband Jim and I had a baby sooner than we thought, so we needed to find jobs to support ourselves," she said. "Jim heard about this farm worker guy who was starting to organize workers, so he signed up to work for him. We met César Chávez a month after he'd started organizing farm workers. Soon after, César's car broke down, and Jim ended up driving him around and getting on-the-job training for how to go to people's homes and talk to them about what they wanted in their lives. Meanwhile, I volunteered with César's wife Helen in the credit union. César's secretary was going off to do some organizing, so Jim told him I would work for him for a couple of weeks, which turned into almost three years."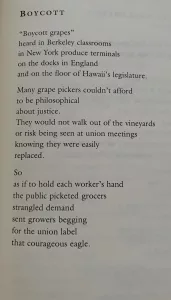 When the farm workers made their first labor contracts with grape growers, Drake typed them up on a typewriter. She also wrote many of Chávez's thank you letters. She remembered, "César would get donations from hundreds of people, and he wanted an individual letter sent to all of them. I loved generating those, and then he would sign each one. One time, we argued about who wrote the original letter, because I could do his speech patterns and his vocabulary so well that our writing was practically indistinguishable. If you hang out with somebody long enough you can start talking like them. To this day, I don't know who wrote that letter. It was fun being a fly on the wall and following him around for different assignments."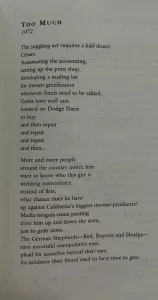 "It was a love-hate relationship, though," she added. "Every once in a while, sensitive stuff would come up, and we knew each other so well that we knew how to really hurt each other."
In 1973, Chávez fired Drake. She said, "Loyalty was really important to César. If he thought you were being disloyal, he'd fire you. And he went through secretaries. I lasted the longest of anybody before me. I can think of at least three before me, over a period of four years."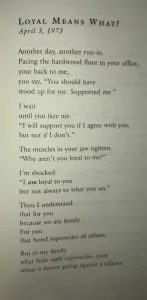 "I was always writing in my journal, and César knew," Drake continued. "He used to tease me that he was gonna start writing about me. It'd be interesting to know if he had ever read Fields of Courage, what he would've thought of it. I think he would have liked it. I think it was fair."
To current M-A students, Drake advised: "Make writing your best friend. In a journal, you can say whatever you want. If you have feelings that you can't really share with anybody, at least look at them hard on paper. A little bit on the screen can be okay too, of course. Ignore grammar and spelling and all of that in a journal, just get your feelings and your activities out. Because if you do ever want to write a memoir, going back over those memories is really helpful. I don't remember a lot of the details that are in my memoirs, but I was able to recapture them by reading my old journals."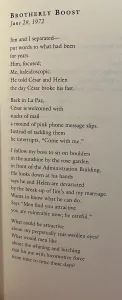 After leaving Chávez's staff, Drake moved back to the Bay Area with her two sons. By then, she and her husband Jim had divorced. She worked as a secretary at the Palo Alto Co-Op for 10 years, and then took another secretarial position at a government agency that was doing cancer research.
She said, "Being a secretary gave me the vicarious thrill of being at the top of the decision-making chain without the leadership responsibility. It was very exciting to be a support person to a number of bosses whose actions determined the future of the organization—farm workers, Co-Op Market members, etc. Where I got into trouble was that I was a woman in a secondary position whose opinion often was not respected. After a couple of those experiences, I started my own business."
Drake then founded Word Management. She explained, "I advertised in the local Santa Cruz County paper that I could transcribe people's resumes, transcribe interviews, and do pretty much anything that had to do with words. Because I get bored easily, I welcomed the variety of jobs in Word Management. I'm a really fast typist and I was able to help proofread people's work because I had good English skills from my journalism days at M-A."
Drake retired in 2017. She said, "I have some chronic heart and lung issues, so I ended up coming to live in a really nice senior community in Santa Rosa. It's a beautifully landscaped place with a creek running through—it's been really great."
On her favorite books, Drake said, "Well, there's nothing that I really read over and over except poems by Walt Whitman and Mary Oliver. When I read novels, I appreciate authors who are kind of quirky and sensitive to human nature. I enjoyed A Man Called Ove by Friedrich Backman, and Squeeze Me by Carl Hiaasen was hysterical." 
She added, "I got my love of writing from my dad and he got it from his grandma. Both of my sons now love writing. It's interesting when you look at a family, like were they teachers or doctors or writers over many generations. In my family, it's a love of words, and a love of putting them together in fresh ways."
Disclaimer: Bears Doing Big Things is not meant to be a list ranking the most accomplished or famous M-A graduates on Earth. It is a collection of people with a wide range of expertise, opinions, and stages of life who were kindly willing to share their stories. There are 45,000+ additional accomplished M-A alums out there, so keep an eye out for them!