Jasper:
We broke our two-month hiatus (all hail a truly remarkable and admittedly unsurprising bout of senioritis) from Bear Bites with a Redwood City classic: the El Grullense Grill, on 768 Woodside Rd, affectionately named "El Greasy." We stepped in through the back door, and the moment we entered we were hit by a cacophony of sounds and scents, with the bustling sounds of the kitchen and roaring televisions blending dizzyingly with wafting currents of salsa, guacamole, and sizzling meats.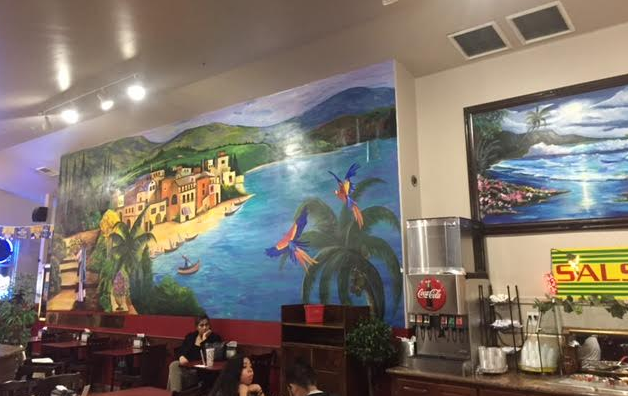 The room itself was spacious, decorated with everything from posters and lights to a wall-sized mural depicting a wildly tropical landscape. For the most part, however, focus remained on practicality. A large delivery counter and open kitchen area are bracketed by a salsa-and-condiments bar as the centerpiece.
The massive menu above the counter dominated the area, listing more than fifty items, each accompanied by pictures that got my mouth watering — and that was before the smells and sounds of roasting meat, and the heaping piles of piping hot and freshly cooked chips that surrounded me. I managed to wait for Ben's return to the table before ordering my own meal after an internal war that probably merits its own article.
Ben:
Jasper and I arrived significantly later than we initially planned to, as is a tradition for us. We scanned the room before agreeing to nestle comfortably at the far end of one of the long, maroon cafeteria-style tables that made up the main dining area of the restaurant. After running around like a toddler on a sugar rush while taking the best pictures I could with my crappy phone camera and mediocre-at-best photography skills, I went over and rejoined Jasper.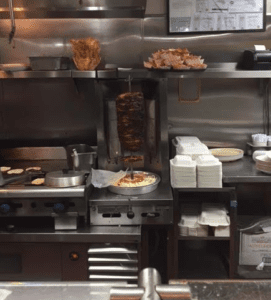 We settled in and cracked the obvious jokes about our Valentine's Day dinner together before heading over to order.
Before proceeding, I should note that I frequently go to El Grullense Grill when I'm craving some cheap, quality, and quick Mexican food, and I always order three tacos with carnitas.
That said, for the sake of the Bear Bites segment I felt it was my duty to be adventurous and sample different things, so I opted to get four tacos: One chicken taco, one steak taco, one chorizo taco, and, of course, one carnitas taco, all with everything on them ('Everything' includes diced onions, cilantro – there is a self-serve area with multiple salsas and other optional garnishes so fear not).
After a short mental debate over whether I should fork over some extra cash for a Lime Jarritos, my willpower gave way and I was rewarded with a refreshing, fruity sip upon returning to the table.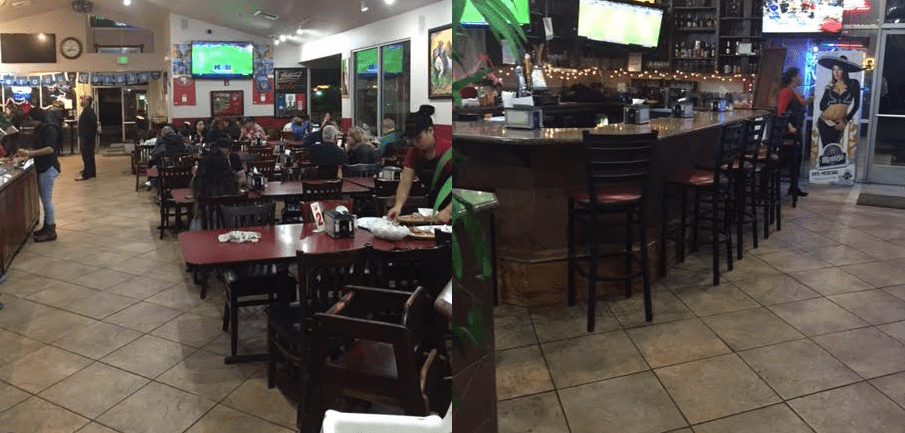 Jasper:
When I ordered my "Chimichanga," or deep fried burrito, I don't think I fully recognized exactly what I was getting into. My thought process was simple enough — I like deep fried things, and I like burritos; what could go wrong?
While I was waiting for my meal to arrive, I treated myself to a couple of plates of complimentary chips and Pico de Gallo salsa, spilling at least three times in the process and getting more tomato on my chino pants than my chips. After all, I was hungry, and they were there. Who am I to turn down free food?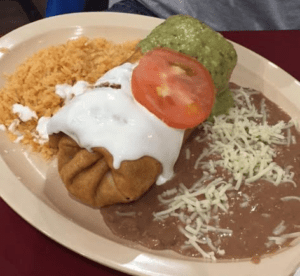 When the burrito arrived, I began to regret my snacking. It was approximately the length of a Chipotle burrito, but the similarities ended there.
It was probably twice the size, drenched in guacamole (also free, by the way — Chipotle, take notes) and sour cream, and plated with what looked to be a pound of rice and beans on one side.
As Ben stared with undisguised hunger, I inspected it with more than a little fear. They generously provided me with a plastic fork and knife, both of which seemed flimsy and inadequate when faced with the task at hand. I'd normally scoff at anyone who ate a burrito with utensils but considering that I might not have the actual physical strength to lever the monstrosity into my mouth, I decided to give myself a break in that department.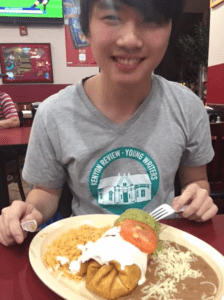 The first bite I cut off of the burrito was as greasy and filling and savory and delicious as I could have imagined. The steak was tender and coated in sauces, a far cry from the weirdly chewy and gum-like textures of the Chipotle steak I had been used to.
The deep-fried tortilla gave the burrito a kind of superstructure that held in both the steaming heat and the actual contents of the burrito. It was packed so full of meat and fillings that, had it been a plain corn tortilla, I'm sure it would have burst on my first bite.
As daunting as the task seemed, I seemed to be finding the burrito getting more and more manageable the more I ate; every bite just seemed to make me hungrier than before. By the end, it was disappearing so fast I swear I could hear the fwoop of displaced air as I wolfed it down, and as I finally set my utensils down to an empty plate, I was feeling a mix of revulsion at having eaten a pretty sizeable proportion of my body weight in deep fried burrito, and the realization that I wanted to do it again.
I cannot recommend this place enough if you want nothing more than amazing, cheap food, and lots of it.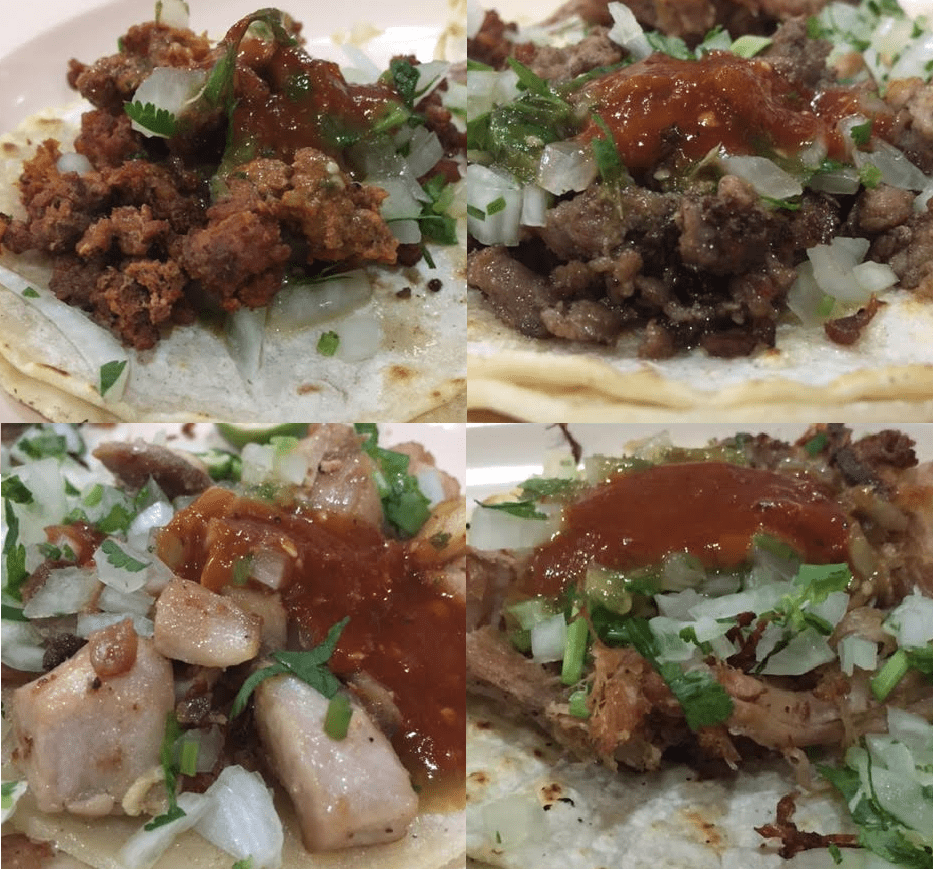 Ben: 
I didn't have to wait too long (about ten minutes) before a plateful of beautiful tacos was set down before me. Prior to digging in, I grabbed a hot sauce bottle from a nearby table and went over to get some hot salsa and a lime to adorn my meal.
I began the adventure in familiar waters, first picking up the tortilla smothered with a generous pile of carnitas and wolfing it down, taking (admittedly small) amounts of time between mouthfuls to savor the contrasts between the tender, juicy pork, the sharp tang of the onions, and the fiery salsa.
The steak caught my eye next, and I devoured it with comparable vigor. The chorizo and chicken followed soon after, and in the blink of an eye, my entire plate was cleaned off. While Jasper worked on his food, I took the opportunity to jot some thoughts down into my handy-dandy Bear Bites™ notebook.
Ranked in order of my enjoyment while eating them, I would say the carnitas (my personal favorite so this isn't exactly impartial) grabs first place, with the steak, chorizo, and chicken coming after (Let's be real, who expected boring chicken to place anywhere other than last). That said, they were all delicious and I would be more than happy to eat any of them again in the future, and I probably will be doing so.
On the traditional five-point scale, I would give the carnitas, steak, and chorizo all fives and the chicken a three point five as, while it was quite good, the flavor was nothing to call home over and the generous splashes of spicy condiments I doused my tacos in made up a large part of said flavor.
El Grullense Grill is a phenomenal choice for anyone lusting for some genuine Mexican food even in the more unreasonable hours of the evening (It's open until 12:30 AM for all my nocturnal bears out there, which I assume is pretty much all of you).
For the quality of the ingredients that go into creating your food, it is amazingly well-priced, with each taco costing between one to three dollars depending on your meat (or vegetable if that's your thing… weirdo) of choice. It's no mystery that the Bay Area is an amazing place for Mexican food, with all types of options from casual taquerias to fancy first-date-level Mexican restaurants within a one-mile radius of any given location. That said, this is a personal favorite of Jasper's and mine and we're glad to have the opportunity to share it with all of you guys so hopefully it can become a source of comfort and pleasure (if it isn't already) for all of you as well.