Photo credit: Noah Eisner
On Friday night, the Bears basketball team snuck past Serra in overtime 45-43 in the opening round of CCS. Junior Skyler Thomas led the Bears with 17 points in their come from behind win. 
With a slow start on offense, the Bears relied on their lockdown defense and Thomas' spark to keep the game close. Being the smaller team, the Bears "boxed out and were more aggressive to make up the difference," according to junior guard Spencer Lin. However, the Padres pulled away to take a 24-19 lead at the half. The Padres continued to widen the lead in the fourth quarter, but the Bears responded with back to back threes from senior J.D. Carson. "We just kept playing, we kept our heads up and kept battling," said Lin. The Bears' signature defense helped them late in the fourth as they forced three consecutive turnovers to keep themselves in the game. With the game on the line and time winding down, the Bears forced a turnover on an inbound play and put the ball into the hands of senior Nick Tripaldi who nailed a three to tie the score 39-39 and take the game into overtime.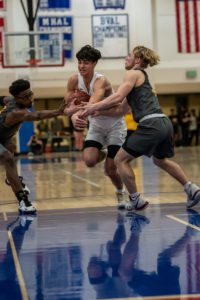 In overtime, senior Justin Anderson took over on both ends of the court. After making a tough layup to bring the Bears within a basketball, he had a huge steal leading to a layup the other end to give the Bears the lead 45-43. After the basket, the Bears shut down the Padres and came out victorious. "It was a battle. Everyone played hard for 36 mins and when it came down to crunch time our players made big-time plays which was the reason we got the W," said senior Trevor Wargo. When asked about the game, Thomas simply said, "we are onto the next one."
In their next game versus Archbishop Mitty, the Bears lost in a close game 63-55. Justin Anderson, Skyler Thomas, and J.D. Carson all had double digit points for the Bears. After losing 85-49 earlier in the year, the Bears fought hard, taking the lead late in the fourth quarter 47-46. Senior Trevor Wargo said, "We played our hearts out and left it all on the court. We didn't get the end result we wanted, but we are ready to make a run in Norcals." The CIF Norcal brackets will come out Sunday evening.