Photo credit: Kylie Wong.
Junior Kylie Wong was delegated to represent the Leo Club and bring a group of M-A Bears to San Francisco and take part in the San Francisco Public Works community cleanup.
From covering graffiti to weeding invasive plants, San Francisco Public Works holds a monthly clean up project in different areas throughout the city. Wong was joined by M-A students Madi Simonian, Charlotte Calder, Lindsay Atkinson, Emily Zurcher, and Kaci Wong.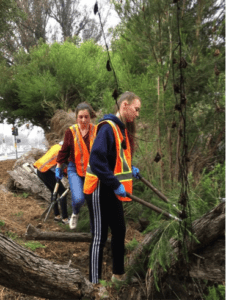 Wong explained, "We were stationed in district 7 in an area in between the streets and neighborhood and were tasked with weeding invasive species of plants surrounding the trees. It was quite fun actually, we all enjoyed listening to music while the San Francisco fog and breeze felt refreshing while we worked."
These students were joined by those from Lowell High School and other service organizations located in and around San Francisco. Calder feels that part of what made the experience so enjoyable was being able to "meet new people and give back to a community outside of M-A." Wong "really loves being outdoors since most of my day and week is spent indoors in a classroom. It's fun to get your hands dirty while contributing to city beautification."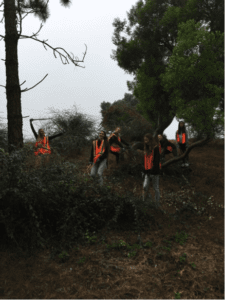 Madi Simonian explained that San Francisco Public Works hosts projects like this once a month, January through November in different parts of the city. The most fulfilling part of the experience for Atkinson "was being able to see the impact that we had on where we worked. When we arrived, the area was full of weeds and invasive plants, but by the time we left we had been able to clear out tons of it."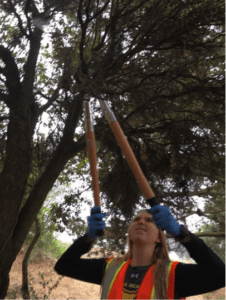 Junior Emily Zurcher said that she "tries to do projects like this as much as possible." She described the San Francisco locals, who also helped out with the project, as being "really nice to talk to about the work we were doing and their lives a little bit." Zurcher's favorite part of this experience was "the diversity of people who showed up. There were people from the Tenderloin, a less wealthy part of San Francisco, as well as others from at least 10 other districts throughout the peninsula. It was really eye-opening and heart-warming that we were all there to help the city in whatever way we could."
The Leo Club meets in D-4 on Tuesdays.