Last Friday, the girls teams lost their first virtual game against Carlmont 68-116 for the JV girls and 41-129 for the Varsity girls. However, the Boys teams had a huge win: beating Carlmont for the first time in five years with a score of 100-86 for JV and 93-77 for Varsity.  
Coach Smith describes Carlmont as a "powerhouse" and "the perennial PAL champions for years," so Smith congratulated the team by saying, "this is a big victory shared by the whole." He highlights team leader Sonny Watkins' "competitive spirit," and motivation to improve which resulted in some much needed points. Sarah Weintraut's hard work at virtual dryland practices also generated some "monster swims in the relays and the 50 Free."
This was a virtual meet, so the swimmers were all separated by lanes, and the odd lanes were designated for Carlmont swimmers who were simultaneously swimming at Carlmont's pool. Swimming times were taken and inputted virtually, but no final score of either school was reached until the next day. The four cohorts, consisting of around eighteen swimmers, were assigned to a designated corner of the pool deck where they waited eagerly for their next heat. 
The extra safety measures that M-A has implemented has made the community feel safer about sending their kids back to swimming. Audra Loftman "loves how her daughters can still make it to swimming every day and be safe." She also thinks that "it is amazing how the coaches can organize all the logistics of the cohorts."
The meet ran smoothly, but the swimmers did not get to see how their times compared to Carlmont's until the following day. Loftman played a key role in the process by inputting swimmer's times into a computer to be scored and added up. She explains that some coaches "hope to synchronize the times with opponents later," but these plans have still yet to be determined.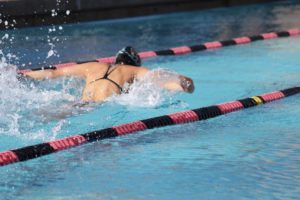 As of right now, meets are much shorter and efficient because there are fewer people and less heats. Mr. Nelson, a M-A teacher and parent, also describes the environment as being "hard for athletes to imagine an opponent," andhave the same motivation and drive. Ella Nelson explains how "it's so much less motivating to swim against your teammate because there's not as big of a rivalry," adding that "I feel like I'm having to race more against myself." Despite these difficulties, Mr. Nelson says, "I didn't realize how much I love to watch student athletes compete. I get so excited." 
While the Bears head into their final two weeks of the season, they hope to continue their success into their next meet against Half Moon Bay this Friday all the way through the PAL Championships on March 26th.