Written by Aaron Zheng and Sarah Marks
Friday was a high-stakes rivalry game — and Carlmont's very own senior night — but the Bears came out with a 53-36 win to not only break the Scots' streak but clinch the PAL South title, CCS open division playoff, and Norcal playoff.
In the first quarter, the team keeps Carlmont from reaching beyond the center court circle with barricade-like defense led by Justin Anderson. The confinement squeezes Carlmont to the corner, taking shots far away from the three-point line. At the quarter it was 17 to 8, M-A. The Bears begin to ram into the heart of Carlmont's defense, optimizing shots from inside the paint. By the time the half rolls around the score is 26-19 M-A.
In the locker room, head coach Michael Molieri told his team, "We need to move the ball. I want to give everyone a touch on offence. We've got to get out wide. All you guys are doing a good job, so go in there and prove that we are not about one individual, we are about a team."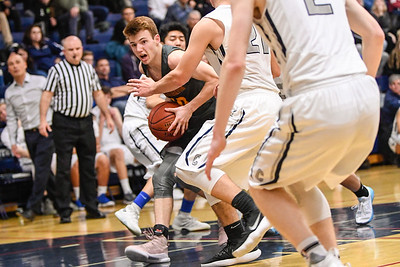 Two leaders from the 6th man club, Sawyer Jones and Kathryn Jones, describe the Bears as "all-focused, with absolute commitment to nothing other than the game. Even on the bench, everyone is just as committed as on the court."
In the second half the Bears grew their lead — the final score was 53 to 36 with balanced scoring all around.
The Bears will celebrate Senior Night next Friday at home at 7:45 p.m.