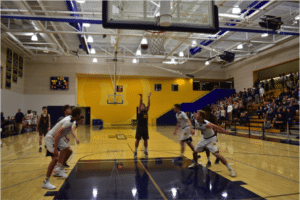 The Menlo Knights fell to the M-A Boys Varsity Basketball this Saturday after a 52-31 blowout. However, the game wasn't just about shouting "start the teslas" or even the sport; the teams were also playing for suicide prevention.
Still high on the energy from Friday night's victory over Calmont High School, the Bears took over the court with a clear goal to win. But, with their eyes on the prize, they still managed to make the game meaningful in other ways.
When fans walked through the entrance, they were greeted by two booths. One was for Safe Space; "A place where you can connect with others to create positive change." The other was for Play4Prevention; an organization whose goal is "to bring a voice to the stigma of teen suicide for teens and parents and offer a place to find resource support, open discussion, and ultimate comfort and kinship."
The game started with a speech from Luke Bottari, Senior at Serra High School, about his journey with mental health. His message was hopeful, encouraging students to "believe in yourself," and seek help if needed.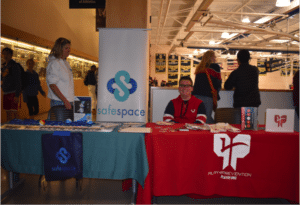 Both teams wore Play4Prevention socks to show their support, and students from both schools gave short speeches about mental health initiatives at the respective schools. Blue wristbands were handed out saying "New Generation, New Conversation SafeSpace." After these messages, the game began.
Rivalry spurred between the two fierce teams as M-A took the lead in the first quarter 12 to 7. The bears secured their lead by the end of the half by 10 points. With that momentum, the bears snatched rebound after rebound and eventually won the game by about 20 points.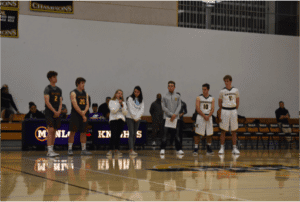 Despite a rather powerful win by M-A, spirits in all students and fans were still high. The sea of maroon flooded out the doors and Menlo fans continued to play basketball after the game was over. With a more purposeful angle of creating a safe space for discussing mental health, chants like "stick to tennis" didn't seem to phase fans and the game had an overall happy ending.