Photo credits: Brian de Haaff
This Thursday, the Menlo Atherton varsity water polo lost 5-6 in a close match versus rival Woodside. The loss was especially frustrating for the Bears, as Woodside had beat them earlier in the season, also by just a point.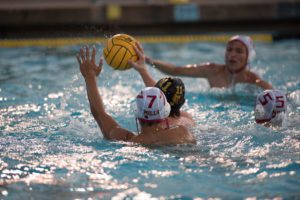 The game began slowly, leaving M-A behind by two at the end of the first quarter. The game began to pick up once junior Michael Heller scored M-A's first goal in the beginning of the second quarter. The Woodside team eventually managed to score a goal, raising the score to 3-1, and attempted to score once more, which sophomore Jake Taylor skillfully blocked. After the M-A offense successfully ejected the opposing team's goalie, Heller scored on an open goal, ending the second quarter on a positive note. 
At the beginning of the third quarter, senior Zach de Haaff pushed forward and scored, tying the score 3-3. Soon after, Heller left offense early and scored to put the bears in the lead. As the bears were ahead, de Haaff scored off a drive, making the score 5-4 at the end of the third half. 
As the last quarter began, the Bears were playing confidently and working together to form a strong defense. Though they held up for a long time, Woodside eventually broke through and scored to tie up the game in the last three minutes. With this development, M-A called a timeout to restructure their offense and defense. In the last minute of the game, Woodside scored, eking out a 6-5 victory.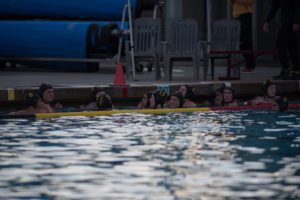 Coach Tim Kates said, "I'm proud of how our team played, and see them getting better every game.  But I give credit to Woodside for playing a great game." Jake Taylor, the Bears' goalie, shared this sentiment, and said that although the team could have been stronger from the start, "it was a good game" and that the team will come back stronger next year.