A hoax school shooting threat disrupted "College and Career Day" at Woodside High School on Wednesday, October 12. Students on campus were midway through their SAT or PSAT exams when their principal announced a schoolwide lockdown on the loudspeaker around 9am. Many students continued testing while armed police officers searched the school. Woodside was one of six schools across the Bay Area who experienced fraudulent school shooting threats on Wednesday morning.
Junior Katie Myers took the PSAT at Woodside during the lockdown. She said, "After our principal announced the lockdown, my teacher frantically closed all the blinds, barricaded the door with chairs, and turned off all the lights. We continued taking the test in the dark—we could still see because there was light coming through the window. Nobody knew what was going on, it was really scary." 
Students taking exams were not allowed to use their phones to contact their families because most proctors adhered to College Board's testing guidelines that prevent any unauthorized electronic device use. Myers said, "I wrote a note to my family on a post-it saying I love them during one of the exam breaks in case anything happened."
Myers continued, "After the police left, our teacher gave us the option to stop taking the exam and cancel our scores, but most of the people in my room decided to keep taking it. We were all very shaken up." For many seniors applying to college, October 12th was the last possible test date to receive scores back in time for the Nov. 1 Early Decision deadline.
Another student who took the PSAT at Woodside on Wednesday said, "I don't think our scores will be very accurate—It was pretty hard to stay focused. I mean, we were trying to fill out multiple choice questions on reading passages while the cops were bursting into the room with guns and flashlights and searching the closet."
San Mateo County Sheriff's Office reported, "After the school was searched and Sheriff's Deputies confirmed there was no threat to public safety, the school lockdown was lifted to resume normal activity."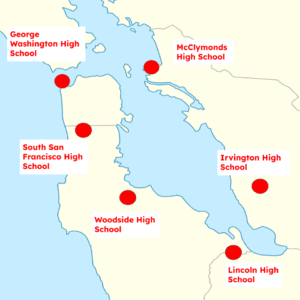 In addition to Woodside, unknown callers falsely notified police departments of shootings at South San Francisco, Lincoln, George Washington, McClymonds, and Irvington High Schools. Police confirmed that there was no merit to any of the threats, and the incidents are currently under further investigation.