On Friday, M-A's Black Student Union (BSU) held their fourth annual fundraiser and showcase, which involved the clubs from M-A, Carlmont, Sequoia, and Woodside. The purpose of the event is always to showcase the talents of BSU members and spread awareness about racial unity and the presence of black students at M-A, but this year the night was also focused on supporting Dreamers in the wake of the Deferred Action for Childhood Arrivals (DACA) repeal.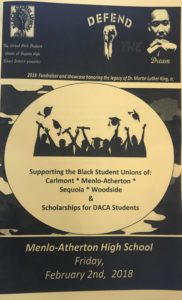 Sherinda Bryant, the BSU teacher advisor, said that "BSU students felt really passionate about the DACA situation and DACA students being threatened to lose their status and felt like they wanted to contribute to the scholarships that were happening through the All Allied Up club, so that's how they came up with the theme. What's important to BSU this year is also that other groups are working together for that purpose, so we have Latino, we have African-American, Polynesian, and we have white people that are coming together to say, all of us are standing together."
The money from the fundraiser went toward scholarships for DACA students, and the central message of the night was to "Defend the Dream" of Martin Luther King, Jr. The featured keynote speaker was Tyson Amir, a poet and author of the book Black Boy Poems.
To kick off the night there was a social hour full of student performances and artwork, including live painting and music. Then the showcase began onstage, and from there the night really took off.
Amir was the first of many presenters, and he was introduced by a young boy who performed a poem about the story of Martin Luther King, Jr. and his actions during the Civil Rights Movement. Amir confidently took the stage and shared his message about the legacy of Dr. King, too.
Amir focused on how King's work is now the work of black Americans like himself, and of all people in America. His poem "Tradition" is a beautiful piece that explained his obligation to share the need for equality in America, and to fight for the liberation of his people. The other piece he performed, "Between Huey and Malcolm," referenced Huey P. Newton, a co-founder of the Black Panther party, and Malcolm X, a famous peer of King's who also fought for civil rights.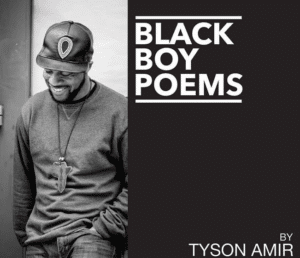 The piece began with a quote from Newton and ended with Malcolm X's well-known words, that African-Americans must fight for equality "by any means necessary." Amir's performance was moving, clearly a message he held above all others, and it was a great transition to the rest of the night, which was full of similarly inspiring student performances.
The Justice Fashion Walk was a highlight, with BSU students showing off intricate, decorated hairstyles and unique makeup done by the M-A Cosmetology club. Later, BSU president Danae Brister gave a moving spoken word performance that emphasized the differences within the black community, and how we can all do a better job of looking at people without stereotyping them.
BSU member Breona Hicks also gave a standout rap performance of an original song that focused on the chorus, "Take action, defend the Dream and put your shields up." She was joined by a dance crew of other performers, including Palutea Maafu, a co-host of the showcase who also performed a stunning traditional hula dance.
Another powerful performance was a poem by seniors Diana Guzman and Itzel Villa Bautista. They shared verses about their latino culture, and discussed the fear they felt when DACA was repealed. They translated their lines from English to Spanish, going back and forth, and the performance was a perfect example of the unity that BSU was promoting throughout the night.
Bryant expressed hope that people would come to the event and "see that student voice is important, that multiculturalism is who we are and that there's strength in that. I want them to see these students supporting one another and standing in unity, and that they are talented and they deserve the stage they've been given. And to see we have work to do, collective work to do…I feel like that is a big task and it doesn't happen overnight, it takes dedication and it takes people that are passionate about that being adamant."
BSU is certainly adamant about bringing change to the world, starting at M-A, and their showcase clearly showed it. The students were excited to share their culture and express themselves at a school where there is certainly diversity, and the message of the night was that if we can all do a better job of appreciating each other's culture, we can take huge steps to strengthening our school community.