Photo credit: Alana Hartsell
As the 2019 Canned Food Drive comes to a close, M-A students woke up early Saturday morning to volunteer at Distribution Day, where canned food and fresh produce are passed out to families in need.
The current Canned Food Drive total is 241,422 pounds of cans. Since the Canned Food Drive officially ends on Wednesday, that figure is expected to rise, especially given there are still some donations to be accounted for. One dollar has an equivalent value to four cans, but donations are typically used to buy fresh produce and meat. M-A's goal is 300,000 pounds of canned food.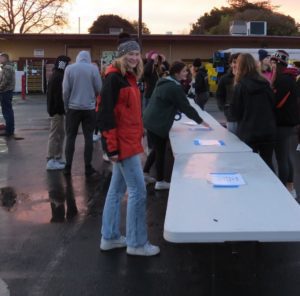 "Usually we start giving the bags out at nine, but this year we changed it to 8:15 beacuse we wanted to see what would work best. So far it has been working really well because the bags are being made as they are given away, which made it easier to control the line,"  said junior and Leadership student Annika Abdella. This change increased efficiency and by 9:40, the line of hundreds of families waiting to receive food was virtually gone — hours before Distribution Day was expected to end. Leadership will implement this strategy in future years. While families waited in line, students passed out pan dulce, a sweet bread pastry. 
Freshman JR Fonua's favorite part was "everybody working together." Some students filled bags with food, passing them down long tables as each item was added, while others acted as "runners," who carry bags to the families' cars.  
Junior Mateo Sabio said, "My favorite part of Distribution Day was being able to use my Spanish to help people out and carry things back to their cars."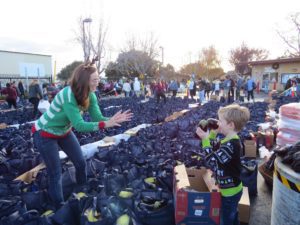 Many M-A Alumni volunteered at Distribution Day as well. Hannah Perez '19 said, "I decided to come back because I've loved it the last two years I was in Leadership, and it's just such a good cause and I love being here."
"I came back because it's just such a special day. It's a day, whether or not you're at this school or in Leadership, you want to participate in… you're going to be around people that you're not usually around and there's going to be one goal that you're focusing on," said Isabella Abarca '19. 
"I think that everyone should come to Distribution Day at least once. You don't have to just do it through the school, it's good to volunteer at food banks," said Sabio.
Even though M-A did not meet its goal of 300,000 pounds, M-A came close to last years' number of 265,000 by Distribution Day. By the end of the Canned Food Drive that number rose to about 280,000 pounds. Last year, a few companies matched donations. If a student's parents worked there and donated to the canned food drive, then the company would donate an equivalent amount. Leadership teacher Michael Amoroso is "not aware of any such donations this year," which explains why the numbers are not as high as last year.