Photo credit: Bob Dahlberg
After nine years at M-A which included two Norcal and one State championship, head football coach Adhir Ravipati has decided to vacate the Bears' sideline. Ravipati's decision is forced by conflicting interests, as his leadership position at an ascending tech startup — and head coaching responsibilities of a successful high school football team — have compromised his ability to do both at a high standard. Although the team's on-field success during Ravipati's tenure swept up the majority of the headlines, his impact on the M-A community has spanned much further than football.
In 2010 Ravipati began at M-A, arriving to a school and program in a condition unlike today's. In his first summer on campus, Ravipati was coaching the junior varsity team in the afternoon while taking classes in the morning to finish a degree in biochemistry from Northeastern University. He recalls that "things were a lot different back then, from the kids to the expectations of the program." What stood out to him almost immediately upon working with the team was the "untapped potential in the kids on the field, but more importantly the unique opportunity for these kids to be impacted by football in a positive way academically and personally."
At the time however, the priority of academics for the football team was not as strong. Carrie Sweetnam, a regular volunteer with the football program, recounts that when she started in the same year Adhir came to M-A at the JV level, "about 18 players on varsity were not going to have sufficient grades to be eligible to play." Back then, the only academic support offered by the team was an once-per week study hall held at outdoor picnic tables before practice.
When Ravipati was made varsity head coach in 2015, these team-run study halls were bolstered. Sweetnam claims that "when Adhir became our head coach, the academic program was greatly enhanced, being held Monday through Thursday on a year round basis in the P-Wing portables." With the improvement of the study hall came improvement in team grades as a collective. "Now, we don't have these kinds of broad [grade related] issues."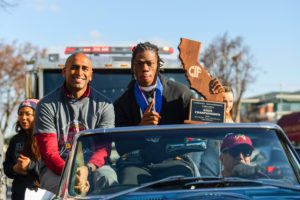 In four seasons, Ravipati led M-A to 3 league, 2 CCS, 2 NorCal, and 1 State title, flipping the script on a historically inconsistent program. M-A's athletic director Paul Snow remembers "The football program was spotty before Adhir came. We have always had good talent, but we had some very successful years and some disappointing ones. Now we're beating WCAL schools, playing out of state opponents because many of the schools around here don't want to play us."
Despite the accolades, Snow believes Ravipati will be remembered primarily for "changing the culture of M-A football, making kids understand that academics is first, and that hard work will always pay dividends, on and off the field." When asked what he would want to remembered for, Ravipati echoed the value of personal development over on-field success. "I want to be known as someone who did everything he could for his players and community. I'd like my legacy to be more than winning and understand that our program has always been about more than that. I'm most proud of the 4-year improvement in our program GPA."
In what would be Ravipati's last season at M-A, the Bears won five straight postseason games in becoming the Division 3-AA CIF State Champions — an achievement that stands alone in M-A football history. In the following February of 2019, three months removed from the state title victory, Ravipati began to feel that it was in the best interest of the team that he step away from head coaching responsibilities. During the final two years of his tenure at M-A, Ravipati held the position of Vice President of Sports Performance for the medical device startup Protoxx, and he felt that the responsibilities of coaching a football team while managing a company had begun to conflict with one another.
About the decision, Ravipati disclosed "as Protoxx has grown the work and time commitment has grown, just like as a successful football program grows so does the work and time commitment. It got to a point where I couldn't manage both and be successful in both areas. I don't mind long hours and days managing both, but I've always prided myself on giving everything I had to the football program as Head Coach. If I couldn't do that to the best of my ability then the kids deserve to have someone who can."
Ravipati's departure comes as a shock to many of his players, who admired his leadership and oversight of the football team. Ravipati valued the time "spent with [his] team having fun, and seeing their growth from freshman to seniors, and into college and life." Snow stresses that Ravipati's presence in the lives of many of his players "has opened up doors for our athletes to go to amazing colleges and get a chance to further their education and playing careers."
Much of the credit for this can be attributed to his improvement of the study hall program, which will continue in his absence. Even during the off season, Sweetnam recalls that many players desired the structure and academic assistance football season provided. "Adhir recognized the need for consistent support during the off season so he extended study hall a few years ago to respond to this challenge."
With Ravipati's absence, Snow and co-athletic director Steven Kryger chose Independence High School's head coach Steve Papin to fill the vacancy. Papin, who rebuilt the football program at Independence in his five seasons there, agreed to sign on at M-A on the 22nd of April. About the remaining coaching positions, Ravipati hopes the team "can keep as much of the current staff as possible, because they are guys who coach for the right reasons. With the success of all our athletic programs as proof, Paul Snow and Steven Kryger will make a great choice in a new coach."
Although removed from coaching, Ravipati hopes to be involved with the team in some way in the years to come. His departing words for the M-A football program and community are as follows. "Thank you for an amazing 9 years. The relationships and memories I've made at M-A are some of the things I cherish most in my life. This will always be home to me. I've always said the best is yet to come for M-A Football, and I truly believe we are just getting started. I can't wait to see the success in the years to come."