Cover Image taken by Jayna Chua
Not sure what science class to take next year? I visited Marine Biology teacher Erika Shepard's class to find out more about this option. 
Shepard starts off every class by introducing a different marine animal—that day was about flying fish. We learned some fun facts and students sketched the animal. After watching a short clip about the fish, the class began a rotating oceanography lab. While doing one of the rotations, senior Adam Paczuski explained, "We're about to test the effects of density on temperature and salinity of currents, using real-life models scaled down." In the lab, students did a lot of sketching and described their observations, so this class is good for both visual and hands-on learners.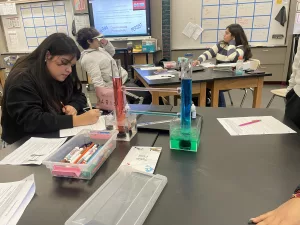 The sixth-period class was very fun and engaging. Students were collaborative and excited to share their thoughts with the class. Shepard said, "The marine bio class is an elective, so everyone in this class wants to be here. It makes a huge difference in terms of the environment. Shoutout to sixth!" Some of the students' favorite parts of the class include watching marine documentaries, dissecting starfish, and … eating snacks? Senior Willy Wang said, "My favorite part of this class is when Ms. Shepard gives me seaweed. When I think of the ocean, I get pretty hungry."
There's also a special dissection students can look forward to in the second semester. Shepard said, "The big lab that everyone loves the most is our squid dissection, because after we have a calamari cook-off. The winning team gets extra credit. It's really, really fun and the kids get really into it. One year someone brought their family's secret recipe of aioli."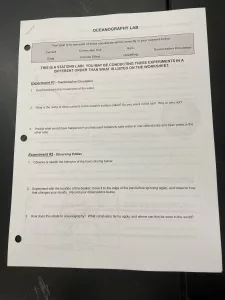 Students who want to take this class should know that you have to have passed both regular Biology and Chemistry which most students take during their freshman and sophomore years, respectively. While there's some physics involved, it's at a basic level that everyone can access. Shepard said, "It's a super fun, relaxed class, and we don't have a huge homework load." This course is great for students who like science but might not want to take an AP class. Junior Dede Ellis said, "I recommend this class to get your science credits. It's easy if you get the material." If you have any questions about this class, stop by F-15 to see Ms. Shepard.