Photo credit: Noah Eisner
In a heartbreaking overtime loss, the Bears fell to Wilcox High School in the first round of CCS play-offs. Coach Steve Papin's first season ended in disappointment, as the former state champions couldn't overcome Wilcox's strong running game.
Prior to the game, many students gathered to celebrate late student and football player, Aisea Mataele, who passed away in December 2016. Senior Matthew Bergan, who took part in the ceremony, said "It was really nice to honor our friend Aisea. It's hard to comprehend that he isn't with us, but we'll always love him and never forget him."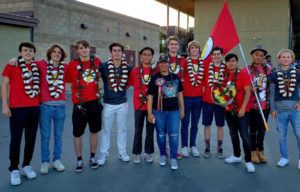 M-A elected to receive in the first half and they jumped to a quick start with an 80 yard touchdown pass on the first play of the game to junior Troy Franklin. Wilcox answered back with a touchdown of their own from running back Paul Rosa, who had a dominating performance throughout the entire night.
With the score tied at 21 and two minutes left in the half, the stadium lights went out. For more than 15 minutes, nothing but glow sticks and flashlights lit the stands and field. With the lights back on, the Wilcox Chargers scored a touchdown. However the Bears answered back before the end of the half, as sophomore Matt MacLeod connected with fellow sophomore Jalen Moss for a 48 yard touchdown tying the game at 28.
Both defenses held strong in the second half. With the score 35-28 Chargers and time running down, the Bears needed a touchdown to extend the game. Quarterback Matt Macleod completed a pass on 4th and goal to Troy Franklin, tying the game with three minutes left. Wilcox was unable to score sending the game to overtime.
In the end, however, Wilcox's running game proved too much for the MA defense to overcome, as they scored a touchdown and sealed the deal for the Chargers.
Many students expressed disappointment regarding the outcome of the game. Junior Alex Waitz said "it was fun to cheer on the bears, but it's definitely disappointing that the football season ended."  Fellow junior Rachel Park added on saying, "I'm going to miss Friday night football." Many players were visibly distraught at the end of the game. Senior and 12th man Captain Trevor Wargo said "All the seniors played super well and gave it their all. It was a great season and I'm thankful to be a part of it."