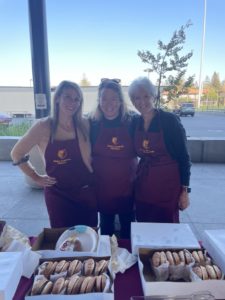 "Football is family," is how football alumni mom Neela Gentile describes the Menlo-Atherton football team.
After practice, the day before every game, the varsity football team has dinner together in the G-wing. "This tradition has been happening for at least 15 years," says Kirsten Wilcox, the mother of Jacob Wilcox, a senior on the football team. She explains, "What we try to do is get volunteers, parent volunteers, or restaurants to donate.
This beloved tradition serves a greater purpose. Coach Chris Saunders explains its significance, "It's like breaking bread: it's how you form relationships, spend time together, and bond." He believes that, "To be a team you have to go beyond the aspects of playing the game—you gotta do these things that build trust."
For the varsity football boys, this dinner is a time to hang out and relax a day before a game in the G-Wing. They start off the dinner by thanking all the volunteers, then Coach Saunders decides the order of who gets to eat randomly, and they begin eating. There is no table big enough to seat all of them, so they disperse. Every table is always completely filled. The boys' laughter echoes throughout the G-wing as they eat.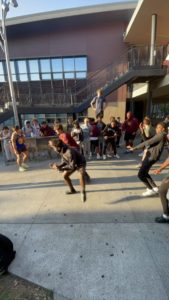 Sophomore Devin Hyde says, "Having these kinds of dinner brings another aspect of your personal life to football, so it's merging a lot of your on-the-field with your off-the-field, and it's bringing the brotherhood even more together." 
Johnno Price, the senior captain, says "my favorite part is messing with the guys." After dessert, the team all came together for a TikTok. What started off as a silly social media post turns into a mini dance party as everyone circles around and cheers for the player dancing in the center.   
Jayden Monroe, a junior transfer from Archbishop Mitty High School, said, "Mitty didn't really have these dinners, but I can't really say because it was during COVID." COVID or not, Monroe thinks these "team dinners are special and this team has a really good bond." 
Price has been on varsity for three years and says "I strongly believe that these dinner make us play better on the field because the chemistry is there."