Photographs by Jackson Williams
In the rowdy scrimmage against St. Ignatius, both teams got off to a slow start. Following a long year with empty bleachers, spirits were high as a senior-heavy crowd brought the energy to the Bears' first scrimmage. Senior quarterback, Matt MacLeod, had many completed passes throughout his time on the field. Seniors Jalen Moss and Jeremiah Earby also caught a few passes in the first couple of drives. The scrimmage also gave the newer, younger players a chance to get some time on the field. The Bears tied the Wildcats 12-12, sealing the tie within the last 90 seconds of the fourth quarter.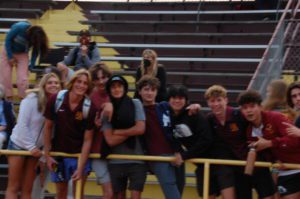 Junior quarterback, Billy Johnson, said, "At the start of the game when we gave up an easy touchdown, they [the student section] definitely motivated us to get back on track." 
Senior, Luke Jensen, described some changes that need to be made to the team's defensive organization. "Our coach has us doing different defensive formations, and when he makes a call from the sidelines, you have to know where to line up. If you don't know where to line up, the defense crumbles, so we have to do better than that." 
While the Bears put up a good fight, it seems as though the team believed that there are
definitely areas for growth, especially on the sidelines. Senior Ishaan Mishra acknowledged the Wildcats, "gave us a run for our money, but that's what we want. We're ready to rumble."
Despite this, several players have high hopes for this year's team. After winning State Championships in 2018, the Bears have big shoes to fill. Johnson stated, "We've got to win state. We've got to win it all. That's the only hope." Jensen also said he believes that the Bears won't lose a game this season as long as they put in the work.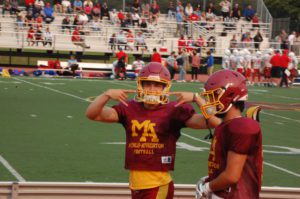 While the football team is feeling the effects of losing a solid senior class, players seem to have a lot of faith in each other and the new players. Junior Johnson said, "I think the [new players] are already stepping up. They're filling leadership roles that are critical for the team."
M-A looks forward to their first official game of the season this Friday. They take on Bellarmine at 7:00 at the San Jose City College.