Last Saturday, M-A's New Gym transformed into a lively dance floor for the Blackjack Casino Night Winter Formal. The red and black color scheme, balloons, giant cards, and dice made students of all grades feel like they were stepping into a casino for the night.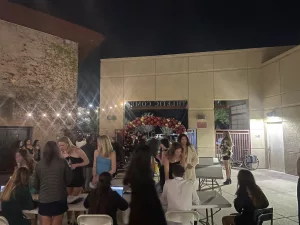 Many students matched the theme with red and black dresses, but others showed off a variety of fashion choices.
Bears had some mixed reactions about the music. Junior Melany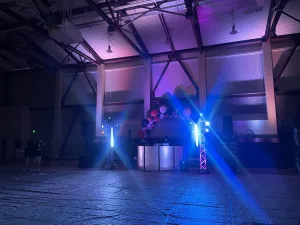 Medina said, "The music is okay. I think as long as you're in the right vibe you can dance to it, but by itself it's not really good." On the other hand, senior Roman Sepulveda said, "The music is better than at other dances and the vibes are immaculate. I like 'Hips Don't Lie' by Shakira and I also like the Hispanic songs." Other popular songs of the night included "Gangnam Style," "Party in the USA," and "La Chona." Since students were able to submit song recommendations through a Google Form sent out by leadership, song choice was as diverse as our student body!
A unique addition to the night was the game room, fully equipped with cards and poker chips. From Blackjack to Slapjack, there was excitement at every table. "Gambling is pretty fun," Sepulveda said. There was also a photo booth, and students will be able to see their photos on the Leadership website shortly.[vc_column column_padding="no-extra-padding" column_padding_position="all" background_color_opacity="1″ background_hover_color_opacity="1″ column_link_target="_self" column_shadow="none" column_border_radius="none" width="1/1″ tablet_width_inherit="default" tablet_text_alignment="default" phone_text_alignment="default" column_border_width="none" column_border_style="solid" bg_image_animation="none"][vc_gallery type="flexslider_style" images="75287,75292,75286″ onclick="link_no"][/vc_column][/vc_row]