On Saturday, November 12, M-A's boys' and girls' cross country teams achieved unprecedented success at Central Coast Section Championships (CCS) at the Crystal Springs Cross Country Course in Belmont. Miles ahead of their opponents, M-A's varsity girls' team became the first ever M-A team to win Division 1 CCS Championships and qualify for state. 
The Bears came into the race fresh off the success of the previous weekend, where they won both the girls' and boys' PAL Championships at the same course. Despite an unsettling false start at the beginning of the varsity girls' race, they performed incredibly well, winning 1st, 2nd, 3rd, 5th, and 8th place with junior Tatum Olesen, senior Katie Lorenz, senior Chloe Pilette, junior Annie Pflaum, and junior Cleo Rehkopf, respectively.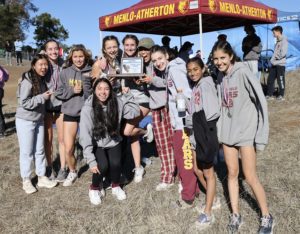 The girls finished with an extraordinary 19 points,* placing 43 points ahead of the second place team, Mountain View.
Lorenz commented, "Qualifying for state as a team is super exciting because we can see how far we've come. At the beginning of the season we were all kind of scattered and didn't have a common goal, but now we have something we're all working for. We've improved individually, but also a lot as a team. I'm really proud of everyone."
Due to team injuries, freshmen Riya Mehta and Paige McGaraghan competed with the girls' varsity at CCS. Mehta later stated, "I think that I've improved a lot throughout the season and something that helped me was running with varsity. That was really motivating and it was really nice to look up to the varsity girls because you see them running and it's kind of like, 'I want to be as good as them,' and it pushed me to work harder." Mehta won her race at the recent PAL Championships. Lorenz said, "I'm really proud of Riya and Paige for stepping up because they weren't expecting to run at CCS."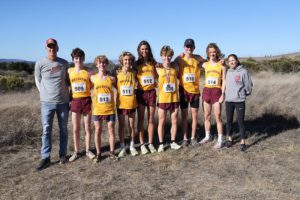 In an extremely tight race, Boys' Varsity narrowly missed their opportunity to qualify for state, finishing only four points behind Bellarmine High School, who won second place. Junior Aidan Doherty said, "Going into the race we knew we were underdogs. We weren't ranked at CCS at all, and the two teams that beat us (Milpitas and Bellarmine) were ranked ahead of us—we weren't supposed to score anywhere near as many points as we did. A lot of boys pushed themselves to get past each Milpitas and Bellarmine kid so at the end of the day I was really proud of everyone because state's was the team goal, and even though we didn't get it we really showed that we could step up to the challenge." Doherty qualified for states as an individual. 
Lorenz commented that the girls' varsity team is preparing for state by focusing on injury prevention. 
The team is already looking forward to the next season and hopeful for future success. Mehta said, "I'm so excited for next season. I really love my team and I think they're all amazing and super motivated." 
Lorenz shared a wholesome story about how the girls had not only finally been able to achieve their goal of reaching states, but of finishing a TikTok from the previous season. "Last year before CCS we made a TikTok that we were going to finish after winning CCS and qualifying for states, but that didn't happen last year so we ended up just saving the draft. But this year we got to finish it so it was like the before and after one year after qualifying for states."
Doherty and the girls' varsity team will compete in the California State Championship in Fresno on November 26. 
*Cross country scoring awards one point to first place, two points to second place, and so on, so the lower the score the better. 15 points is the highest possible score a team can get.