On Friday night's basketball game, the girl's varsity team defeated the Carlmont Scots after making a comeback from a tight first half.
The Bears started off strong the second the whistle blew, but the Scots managed to stay ahead, ending the first quarter at 9 to 15 with Carlmont in the lead. As the game progressed into the second quarter, the crowd stayed on their feet as the Scots kept scoring minute after minute. By the end of the second quarter, the Bears were not too far behind Carlmont at 20 to 23. "I think we played well in the first half, but we needed more energy," said junior Venise Sanft.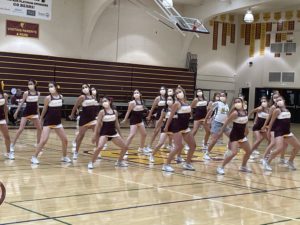 During half-time, Levitating by Dua Lipa echoed through the gym as the M-A dance team danced away, followed with songs by Nicki Minaj. The uplifting song choices seemed to fuel the energy that the Bears carried into the second half, as they began strongly and quickly caught up to the Scots. Senior point guard Catherine Chai dominated the court, shooting a three-pointer within the first couple minutes of the third quarter, tying up the game at 24 to 24. By the end of the third quarter, the Bears led with a  score of 35 to 26.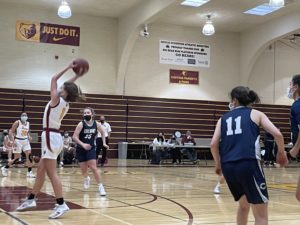 In the fourth quarter, M-A continued to dominate with senior Malia Latu and junior Tess Stackiewiz scoring several times as a team. Latu said that during the second half, "we really focused on us as a team, instead of the other team so that helped a lot." Despite many fouls from both teams during the second half, the Bears held on strong, finishing the game at 45 to 35.
Chai said that the highlight of the game was the team's "strong offense because we were able to run our plays and execute them pretty well, and we did a good job at having a sturdy defense because last time we slacked there." 
"We definitely did better in this game because of Malia. She's our good luck charm," said senior Nikki Yeh and a couple of other teammates. The Bears' next game is on May 21st vs. Half Moon Bay High School at 7 pm.