Photo Credit to Greer Hoyem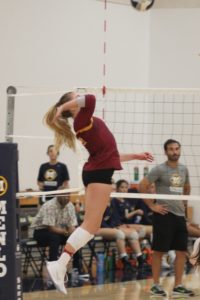 On August 29, the M-A girls volleyball program began its season with a tough match against St. Francis, and Thursday night they took another hard-fought loss against rival Menlo. Although they fell to two of their fiercest preseason competitors, M-A's varsity players have been training vigorously and are prepared to buckle down for the remainder of the season in hopes of repeating last year's Peninsula Athletic League (PAL) victory, Northern California title, and state championship run. Despite losing six of their strongest seniors, the Bears are excited about their fresh roster that includes several potential stars among its seven underclassmen.
In order to be as competitive as possible in the first few weeks of the season, the team has been practicing hard, as well as conditioning in addition to practice and making sure they eat the best foods to fuel their training. Junior Kathryn Jones explained, "Practices have been focused on getting us in shape and it's by far the best I've ever been in. This week, though, we've been moving towards more six-on-six work in preparation for our games."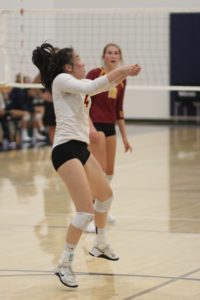 Thursday night's match was away at Menlo School, and the crowd was ready for the highly anticipated rivalry. M-A had its first chance to avenge its loss to St. Francis and the mood during warm-ups was electric as the varsity players got ready for their second demanding match. Menlo students packed their side of the gym with excited fans, and while M-A bought a noticeably smaller crowd to the away game, the Bears offered invaluable support to their team.
In the first set, all three seniors, outside hitter Lauren Heller, libero Nicole Kang, and middle blocker Josephine Tonga started on the court. Floor captain Heller was a commanding presence throughout the game, as she started her fourth season on varsity and stood out on the left side with a number of powerful kills, solid blocks, and dynamic defensive plays.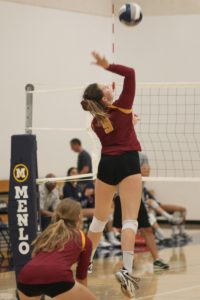 Menlo won the coin toss and was the first to serve, and after a missed serve that gave the Bears their first point, the Knights took off early, attacking the Bears' defense with aggressive kills and blocking effectively. M-A found itself down early 3-9 but quickly rallied with an impressive kill by freshman outside hitter Emma Spindt.
Junior middle blocker Sawyer Jones took the service line, and after a nice serve and a block by junior Kathryn Jones and Tonga, the Bears brought the score to 6-13. Both the Menlo crowd and the M-A fans kept the gym buzzing with positive energy as they threw their support onto the court.
The game drew closer and closer and M-A tied the score at 17 with a huge block by Jones and Spindt. From there, the spectators watched from the edges of their seats as the teams battled out the remaining eight points. Menlo missed a crucial serve and M-A was behind 19-20, within striking distance of a victory. Decisive kills by Spindt and Tonga punctuated the stressful final points, however, the Knights came out with the win after a kill from the outside and an ace serve.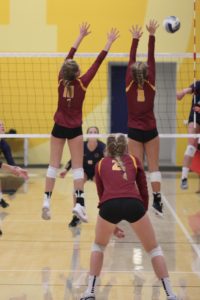 In the second and third sets, M-A showed heart as they battled against Menlo's dangerous front row, and the Bears' back row worked tirelessly to give their offense opportunities to put the ball away. Although the Bears came together and showed moments of excellent teamwork, as well as relentless effort that showed off the results of their rigorous preseason, they were unable to come out on top and lost to Menlo in three straight sets. Jones added, "Our first games have been tough, they were both strong competition. We came back a few times and that's the performance everyone will be seeing more of."
Come support the Bears Tuesday, September 12 in their PAL home opener versus Carlmont at 6:15 p.m. in Ayers Gym!